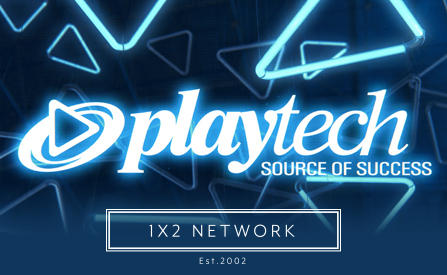 UK-headquartered, 1X2 Network, has signed a monumental content deal with Playtech. This software developer will integrate its games within its latest partner's offer and…
…thus become a part of a highly successful aggregation platform. This company currently offers a massive library of slots to its partners worldwide.
Joining the Big Family:
The deal with Playtech is by far one of the largest distribution deals the UK-based brand has signed this year. Becoming a partner with this content aggregator will allow them to reach markets where they are looking to establish a greater presence. As a part of the deal, Playtech will gain access to some of the hottest slot games from 1X2's portfolio.
Online casino operators associated with this aggregator's network will be able to offer titles such as Faerie Nights, Sinister Circus and many more.
Major Gain:
Despite already featuring over 600 games sourced from third party studios or their own creative department, Playtech stands…
…to gain a lot with this deal. The content boost this partnership will bring can only help this giant in its effort to become one of the most
Kevin Reid, Chief Commercial Officer of 1X2, says "Playtech is a titan of the industry and we are thrilled to have integrated content from our 1X2gaming and Iron Dog Studio brands into its powerful Open Platform. The partnership will make our games available to more players in more markets than ever before, while further establishing our position as a leading game developer in core jurisdictions such as the UK, Italy, and Malta. It is also a testament to the quality and popularity of our content."
"We take a quality over quantity approach to the games we offer via the Playtech Open Platform to ensure that the third-party developers we integrate deliver the same quality player experience as our own titles. 1X2 Network certainly meets that brief and we are thrilled to be able to offer our operator partners games from its 1X2gaming and Iron Dog Studio brands. They are a great addition to the POP portfolio and I am in no doubt they will be a big hit with our partners and their players," James Frendo, Casino Director of Playtech, added.
About:
Playtech is one of the veterans of the industry that still holds a very high position among its peers. The company was officially founded in 1999 and has since designed some of the most popular slot games in the history of online casino content. With several decades of pure experience, it has specialized in rolling out highly engaging slots that improve player acquisition and retention across the board. Over the years this company has attracted a number of 3rd party providers under its wing. As a result, Playtech currently offers over 600 unique slot games and runs one of the largest content aggregation platforms in the industry.
Source: "1X2 NETWORK SECURES PLAYTECH PARTNERSHIP" https://1x2network.com/#/news/1x2-network-secures-playtech-partnership. 1X2 Network.October 22, 2019.
Author: Dusan Trifunovic