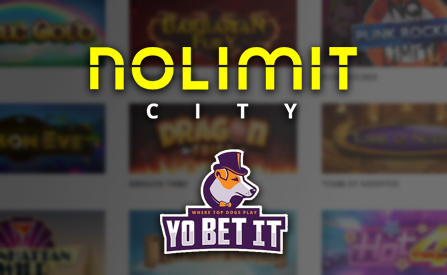 Yobetit, one of the larger operators headquartered in Malta, has announced that it has expanded its portfolio with the addition of Nolimit City's content.
The deal comes in light of the operator's effort to further improve its position in the several key markets it has a presence in at the moment.
Going Forward with No Limits:
Yobetit continues its journey to the top with another successful content deal. The decision to establish a working relationship with this provider was based on several factors, although it is fair to say that Nolimit's RGS platform was a major one.
The Remote Gaming Server platform is an inhouse project run by the developer , that has proven to be a force multiplier when it comes to growth potential.
By partnering up with this provider, Yobetit will gain access to valuable technologies and content. Speaking of which, patrons of this casino will soon have the chance to try out some of the developer's most popular slot game releases such as the Punk Rocker, Tombstone, Dragon Tribe, and Barbarian Fury. The operator has also recently added sportsbook and lottery content to its platform, thus greatly expanding the scope of products and services its patrons can enjoy.
Gaining an Ally:
On the other end of the deal, Nolimit is gaining a powerful ally in some of the most competitive markets in the industry. Yobetit has been experiencing massive growth in recent years, meaning that the provider is gaining access to a whole new user pool.
Malcolm Mizzi, Commercial Director at Nolimit, commented on the new deal: "Building on a strong local relationship with the founder/s of the highly attractive brand of Yobetit, we see the great potential and striking a deal together whilst we're in growth phase made absolute sense to us both! Keep a lookout for what's to come from these guys."
A Yobetit.com representative was also quoted saying: "The way Nolimit have presented their vision towards a long-term business relationship and their commitment to delivering high-quality games has inspired us. We see real value in a partnership with Nolimit."
About the Supplier:
Nolimit City is a software provider headquartered in Malta, with offices in Sweden and India. The company has been producing high-quality gaming content for over a decade, offering players worldwide more engaging and entertaining software. Over the years, it has built a reputation that has allowed it to partner up with top tier operators in key regulated markets. Thanks to the dedication of its talented team, this brand is continuing with rapid growth and is constantly working on innovative new games.
Source: "Yobetit enhance games library with Nolimit City integration!" https://www.nolimitcity.com/news/yobetit-enhance-games-library-with-nolimit-city-integration.html. Nolimit City.April 2, 2020.
Author: Dusan Trifunovic