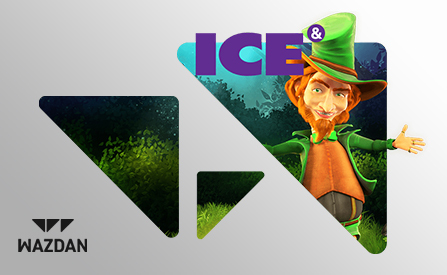 Innovative, Malta-based developer, Wazdan has been working hard lately.
They knew that ICE 2019 London was just around the corner, so they came to a decision to bedazzle visitors by displaying several brand-new editions of their games during the 3-day event, which took place this past February 5-7.
Keeping Their Promise:
Those who are actively following their work know how dedicated they are and when then promise something, they will do anything that's in their power to see it through.
Namely, not too long ago they announced that they were planning on launching two new games each month.
Last month, the company shared the news that it would unveil new titles at this year's ICE. Everyone was expecting two, but fortunately, their dedicated and talented team gave us more – seven sensational games!
Pushing Their Limits:
They knew no one was expecting for this to happen and ICE was the perfect opportunity to demonstrate their omnipotence.
The video slots showcased were partially sequels and some of them were completely inventive. These are the names: Magic Stars 5 (Magic Stars 3 the prequel), Magic Stars 6, Space Gem, Gold Fish, Larry the Leprechaun, Juicy Reels and Lucky Reels. The attendees had the opportunity to spin the reels and see how they like it.
Enter The Magic Stars 5:
This may be one of the most exciting games. If will provide players with an incredible experience on both mobile and desktop.
Furthermore, it pays on any position on the reels and it is equipped with special Wazdan Features such as Volatility Levels, Double Screen Mode, Energy Saving Mode, Unique Gamble Feature, Ultra Fast Mode and Ultra Lite Mode.
Unforgettable Journey With Space Gem:
The other one that will definitely stick in your memory is called, "Space Gem," and it will take you on an intergalactic adventure where you will get the opportunity to explore various features like re-spins, wilds, etc.
Moreover, it comes with preeminent and deeply immersive graphics that will make you forget about the real world and just focus on grabbing superb prizes, multicolored gems and many other phenomenal things!
This game also consists of Fast Mode, Ultra Lite Mode, Volatility Levels, Space Gem, Double Screen Mode, Energy Saving Mode and a Unique Gamble Feature.
Jeremy Fall, Wazdan Chief Marketing Officer, proudly discussed their company by saying:
"The team at Wazdan have been working tirelessly to bring a hard-hitting lineup of new title releases to ICE 2019. It is thrilling to see the new titles go to market and we are delighted that we have been able to showcase them at ICE 2019 where attendees got a close look at what makes Wazdan games so unique."
Source: "Wazdan Surprise Exhibition Attendees With Seven New Games" https://europeangaming.eu/portal/press-releases/2019/02/07/38302/wazdan-surprise-exhibition-attendees-with-seven-new-games/. European Gaming. February 8, 2019.
Comment: Not two but seven of them! Congrats guys!
Author: Ava Jackuard