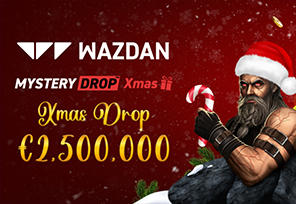 Wazdan, a renowned game provider, is set to envelop players in a winter wonderland with its Christmas-themed promotion, Xmas Drop. Spanning from November 27 to December 26, this event caps off the year as the final act in its series of network promotions, following the acclaimed Mystery Fall and HalloWIN Drop.
A Jolly Good Prize Pool
Xmas Drop showcases Wazdan's acclaimed Mystery Drop™, a promotional tool celebrated for its player engagement and impressive results since its inception. What sets this event apart is its staggering €2,500,000 prize pool, fully sponsored by the provider, promising a merry and bright gaming experience for all participants.
All the brand's captivating slot games participate in the Xmas Drop, featuring fan favorites like 9 Coins™, 12 Coins™, Power of Sun™: Svarog, and the Hot Slot™ series. To add to the festive cheer, the supplier has specially tailored Christmas-themed editions of its hit slots, including 15 Coins™ Xmas Edition and Mighty Wild™: Panther Xmas Edition. These seasonal spins on popular titles are sure to bring extra joy to players during the holiday season.
Winter Wonderland Wins
The overarching winter theme of Xmas Drop aims to captivate a broader audience, offering an engaging and exciting promotion that operators can confidently present as the season's highlight.
For players looking to enhance their holiday gaming experience, consider exploring the variety of no-wagering bonuses available, which can add a new dimension to your play.
Join the Festive Fun
Wazdan's Xmas Drop is more than just a promotion; it's a celebration of the festive season, bringing together the joy of gaming with the spirit of Christmas. As you spin the reels of these festive slots, you're not just playing for wins; you're part of a grand holiday event. Don't miss out on this seasonal extravaganza and the chance to be a part of a gaming community celebrating in style.
Embrace the holiday spirit with Wazdan's Xmas Drop and let the festive reels spin you into a world of joy and potential big wins!
Source: "Wazdan prepares for the festive season with €2,500,000 Xmas Drop network promotion". Wazdan. November 13, 2023.
Author: Ivan Stefanovic