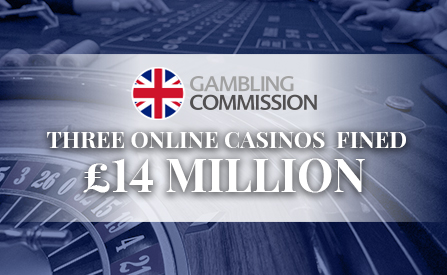 Recently, it has been discovered that three online casinos have failed to prevent money laundering and at the same time protect the gamblers. The Gambling Commission has noticed these inaccuracies, so they decided to punish them by forcing these Casinos to pay £14 million!
What Actually Happened?
The main cause of the problem is the fact that these places didn't have enough safeguards that would be able to observe the situation, prevent any unwanted events and at the same time protect the customers.
The industry regulator determined the amounts of money these casinos will have to pay. According to some reports, Casumo must give a penalty package of £5.85 million, Daub Alderney is more damaged and they have to pay £7.1 million, while Videoslots accepted to pay £1 million, instead of receiving a financial penalty.
On the other hand, CZ Holdings gave up their rights to provide gambling services in the United Kingdom. Furthermore, six other companies from the gambling industry are still under investigation.
The Official Statement from the Gambling Commission:
Neil McArthur, the chief executive of TGC wanted to clear some things up and comment on this subject by saying:
"I hope today's announcement will make all online casino operators sit up and pay attention, as our investigations found that a large number of operators and their senior management were not meeting their obligations
We expect operators to know their customers and to ask the right questions to make sure they meet their anti-money laundering and social responsibility obligations."
Without giving out any names, it was announced that three individuals have also lost their license to serve as directors of their gambling companies, four have received warnings for now and three of them are still being questioned.
The Protection of Customers is Above Anything:
If we count all of them, these fines surpass the biggest penalty handed out by the Gambling Commission. The (now) second-largest happened to casino 888 when approximately 7,000 people have voluntarily removed themselves from the website were again allowed to continue wagering.
Jeremy Wright who is the secretary of state for the Department of Digital, Culture, Media and Sport said that online operators must not ignore their obligations towards the players, otherwise they are going to be punished. He thinks that other online gambling institutions must take notes and learn the lesson from the mistakes that other made.
He then said: "There are robust requirements to safeguard players and prevent money-laundering which all businesses must adhere to if they wish to operate in the British market. I am pleased to see the Gambling Commission taking the strongest possible action when companies fail to meet their obligations"
Source: "Online Gambling Firms Fined In Crackdown" https://www.bbc.com/news/business-46382717. BBC. November 30, 2018.
"Online Casinos Fined £14 million amid watchdog crackdown" https://www.theguardian.com/business/2018/nov/29/online-casinos-fined-14m-amid-watchdog-crackdown. The Guardian. November 30, 2018.
Comment: I can't believe this is happening! What were they thinking?
Author: Ava Jackuard