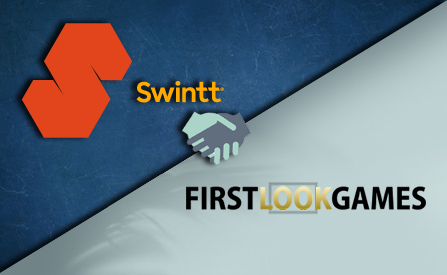 Swintt, one of the youngest game developers on the market, has announced that it has signed a partnership deal with First Look Games.
The two companies will…
…work together in the future, mutually improving each other's standing in key regulated markets around the world.
Mutually Beneficial Partnership:
The deal to be beneficial for both parties. First Look runs an affiliate program designed to connect software providers with operators around the world, allowing their slot games to get the exposure they deserve. By using First Look Games, affiliates from all over the world can pick and choose content from select software providers that they wish to promote.
By establishing a partnership deal with this company, Swintt has opened up its growing game portfolio to a wider audience of potential customers.
First Look, a relatively new company based in the United Kingdom, is spearheading a new idea that simplifies the link between providers and operators. Despite being active only since 2018, they have managed to build a decent portfolio of software providers potential affiliates can choose from.
Tom Galanis, the founder of First Look Games, commented on this new development: "We are thrilled that Swintt has chosen to white-label our technology platform, allowing the studio to effectively market – both in terms of reach and cost – its games to operators and affiliates. First Look Games provides incredible brand and product exposure for game developers, and we are delighted that Swintt will be able to leverage this via its own branded games portal powered by our state-of-the-art technology."
David Flynn, CEO of Swintt, shared his take on the new deal: "We have quickly built our brand recognition and gained a lot of followers in the industry, and partnering with First Look Games will help us push to the next level by spreading word all the way from operators and service providers to affiliates and finally players. Making sure our games are across the vast affiliate network will be crucial to us expanding our reach and helping more players become interested in our vast product suite from our game releases, to SwinttGamify and especially SwinttPlay-it-Back."
About:
Swintt is an innovative software provider that is specialized in delivering high-quality immersive slots to the iGaming industry. The company has been around long enough to establish a massive team of over 70 professionals who bring more than 100 years of cumulative industry experience to the table. As a result, it is capable of delivering some of the most impressive slots found on the market today.
Source: Narayan, Niji. "Swintt Partners with First Look Games" https://europeangaming.eu/portal/latest-news/2020/02/27/65108/swintt-partners-with-first-look-games/. European Gaming. February 27, 2020.
Author: Dusan Trifunovic