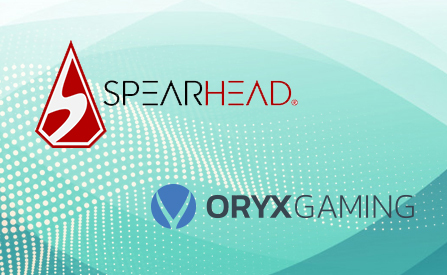 Spearhead Studios, one of the latest software providers to join the fold, has announced that it has signed a content deal with ORYX Gaming.
The terms of the agreement will allow Spearhead to distribute its games through the ORYX platform, making it available to users in key regulated markets.
Expanding the Network:
The announcement comes at the heels of a deal the two companies have signed. Being a fairly new studio to the market, Spearhead has already released several important titles such as the Book of Souls and Wilds of Wall Street.
These games have proven to be…
…very successful, giving this studio the initial boost it needed. With enough wind in its back, Spearhead has pledged to produce a minimum of 12 slot games per year starting with 2020.
That being said, the company is already looking for ways to distribute current and upcoming games.
Signing a content deal with ORYX is definitely a step in the right direction…
…and will ensure enough exposure for the future titles Spearhead releases.
Mathias Larsson, Managing Director of Spearhead Studios, added his comment on the deal: "We are very excited that our games are live with ORYX's partners and their operators. It's been a great start for Spearhead, and with our rapidly expanding portfolio, we are looking forward to a long successful partnership."
ORYX's content aggregation platform called ORYX Hub has been steadily growing. As of right now, Hub offers a massive library that includes over 8,000 games from more than 80 software providers. ORYX takes pride in owning licenses that allow them to offer their content in 15 major jurisdictions around the world.
Matevz Mazij, Managing Director of ORYX, also commented on the new agreement: "Spearhead Studios is a rising star in the industry with a growing portfolio of new and exciting games and we are thrilled to partner with them and to further boost our offering."
About the Brand:
Spearhead is an innovative software from Spain that was founded by EveryMatrix – a large software provider headquartered in the United Kingdom. Despite being one of the younger studios on the market, the company has made several successful slot games that have run into positive feedback in key markets.
The company states that its mission is to change the game of game making and completely disrupt the industry by introducing new and fun technologies. Spearhead Studios is always putting the player first and designing games that players will want to play.
Source: Miller, George. "Spearhead Studios launches games on the ORYX Gaming platform" https://europeangaming.eu/portal/press-releases/2020/03/09/65814/spearhead-studios-launches-games-on-ORYX-gaming-platform/. European Gaming. March 9, 2020.
Author: Dusan Trifunovic