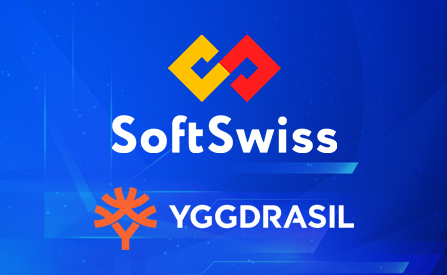 SoftSwiss has announced a partnership deal with Yggdrasil Gaming.
Namely, this software provider has become the latest…
…brand to join the YG Franchise partnership. This move brings significant implications for the further growth of both the SoftSwiss and this program as a whole.
Exploring New Horizons:
SoftSwiss is now officially a part of the YG Franchise program. This privilege will allow the former a wide range of benefits.
The company is joining…
…the ranks of software providers that have chosen YG's expertise when it comes to supporting tools, networking, and more.
SoftSwiss has gained access to GOTI technology, BOOST, and many other proprietary tools designed by Yggdrasil to streamline the slot game creation process.
Additionally, becoming a partner, this software provider has also…
…tapped into a massive network of peers they can cooperate with. Overall, the deal puts SoftSwiss at a very competitive position relative to its main competitors outside the YG partnership program.
Last but not least, there's Yggdrasil's absolutely massive distribution network that includes a range of top tier online casino operators all over the world. All of these are now at its new partner's disposal.
A Proven Supplier:
Bjorn Krantz, Head of Publishing at Yggdrasil, said: "SoftSwiss are proven as a leading casino supplier and we are extremely happy to add them to our expanding YG Franchise network. As our Franchisee network continues to grow, the model amplifies the value for partners. The franchise enables them to take full control of their iGaming strategy, to scale their business for success in an efficient and secure way and, ultimately, to drive new revenue streams."
Krantz goes on to add: "Partnering with Yggdrasil will provide SoftSwiss full access to a wealth of proven YG experience and technology. The YG Franchise solution is highlighting the importance of collaborative work in iGaming and playing to the strengths of individual businesses. The YG Franchise network adds scale to increase returns for all parties."
Max Trafimovich, CCO at SoftSwiss, said: "We are delighted to become part of Yggdrasil's unique YG Franchise network and to utilize the solution to collaborate and drive revenue and growth. The content is strong and supported with unique promotional tools under BOOST. We look forward to sharing the games within our expanding network of operating partners. By working together with Yggdrasil and other Franchise partners, using their iGaming 'in a box' solution and the GATI technology, we expect to reinforce our market position as a leading casino solution provider in the industry. It is an exciting time."
Source: Miller, George. "SoftSwiss strikes franchise deal with Yggdrasil". European Gaming. July 30, 2020.
Author: Dusan Trifunovic