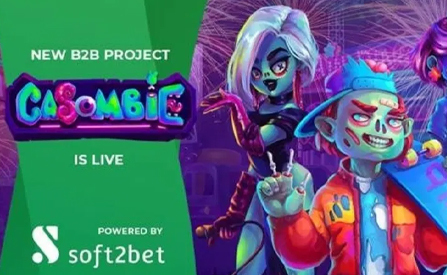 Soft2Bet, the Nikosia-based provider, is moving fast and for this brand, it seems like there are no signs of slowing down as the casino's operator and sports betting platform launched a zombie-themed brand: Casombie.The new brand with a zombie theme promises different content from other suppliers and comes with lots of interactive gamification tools. This makes things easier for customers, and from now on, they can pick welcome bonuses and thanks to the casino engine they can earn extra spins and unlock bonuses. The software provider's network and the B2B subsidiary now accommodate over 20 sports betting and casino brands. The latest additions include Cadabrus, SlotsPalace and MultiApuestas.
Media Comments:
Boris Chaikin, CEO of Soft2Bet, said: "Casombie shows the full flexibility that our platform can deliver. Some partners wish to appeal to a broad audience, while others have a specific vision which they want to bring to life, and this brand has certainly done that impressively. The unique character choice at the start will resonate with video gamers and an audience that want something more engaging from their casinos, and with an achievements system backing up our vast number of games, they'll be sure to find just that."
Bilyan Balinov, CEO and co-founder of Casombie, added: "The zombie theme may not be your first thought when bringing together a casino brand, but with Soft2Bet's expertise and flexible platform, we're confident that we can deliver an exciting casino that offers something different from the norm," It's an out-of-the-box idea, but after extensive research we found that some of the most popular games across every age category feature zombies. We can't wait to introduce it to players."
More on the Brand:
Soft2Bet is an online casino provider who delivers B2B casino services. The company is quickly developing into a major provider in the iGaming industry and they are helping customers and giving them the ability to have their casino brand. Basically, with Soft2Bet White Label solutions that include technical and marketing experience with products and services, also they are giving costumers the opportunity to use their licensed casino platform and to develop their original brand.
Source:"Soft2Bet goes live with undead-themed casino Casombie". Soft2bet. November 27, 2020.
Author: Ivan Stefanovic