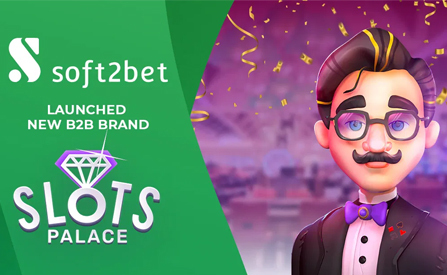 Nikosia-headquartered provider of casino and sports betting platforms, Soft2bet, has delivered slots under the SlotsPalace brand.The latter's compelling design combines a wide range of premium content from onsite studios and providers with an exceptional user experience that together creates a superior gaming experience.
Rewards, Languages and Payment Options:
With the fun game elements that the Soft2bet platform has become famous for, SlotsPalace is the first company in the industry that gives players the opportunity to gain rewards and uncover art collections. Diamonds can also be earned during the game, where they can be exchanged for extra cash and extra spins. This company has more than 60 payment methods and multiple language options, including Italian, Spanish and Portuguese.
Comments:
Boris Chaikin, CEO of Soft2bet,said: "The launch of SlotsPalace showcases the Soft2bet platform in all its glory. We pride ourselves in giving B2B partners full control over their brand's look and feel and this project fully demonstrates this.Gamification is what players demand and our features are set to be a fantastic engagement and retention tool for SlotsPalace going forward."
Sebastien Vincendeau, Head of Marketing and Partner at SlotsPalace, added: "SlotsPalace is set to offer players a first-rate casino experience utilising Soft2bet's top quality platform. It's been a pleasure working with their team to get this off the ground and we're now looking forward to bringing a strong brand to the market.Focusing on the luxury side of life, SlotsPalace brings unique features to the casino space, such as art collections and a shopping boutique, none of which would have been possible without a flexible platform underpinning this casino."
More on the Brand:
Soft2Bet is equipped with comprehensive experience in the gaming industry. Since 2012, the organization has been working and has grown rapidly in different directions. Nevertheless, it is not just a manufacturer of slots, but also a full-fledged casino provider and more known as a content aggregator and white label brand. It delivers the finest online casino games and software that provide players a diverse and prosperous platform. Itsfile contains slots, live games, slots from other significant manufacturers, partnerships with a third party casino, sports betting, multilingual support, payment processing, customer support and more. The brand collaborates with some of the biggest companies in the iGaming industry such as Betsoft, Evolution Gaming, EGT, Elk and many others.
Source:"Soft2bet launches gamified casino brand SlotsPalace". Soft2Bet. November 18, 2020.
Author: Ivan Stefanovic