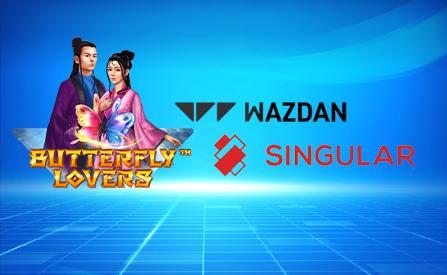 Singular, one of the leading content providers in the iGaming industry has signed a deal with Wazdan Games.
This new agreement will allow the former to offer…
…Wazdan's complete portfolio of titles to its clients. The two companies are planning on establishing a long-term relationship that should ultimately lead to new opportunities for both parties.
New Partnerships and Opportunities:
Wazdan has been making waves on the market these last few years. Known for its innovative slot game sand unique in-game features, it has come a long way in a rather short period of time.
This company was dominating…
…the high-end slot game scene last year as more and more operators realized the potential this brand offered through its content. 2020 has started off great for the developer. They have signed a number of important deals and released several new games.
The agreement with Singular, a content aggregator from the United Kingdom, comes as the latest in the line of partnerships for this brand. The popular content aggregator has built a name for itself by working with some of the largest tier 1 operators in the world.
A Major Boost:
Singular has supplied games to just about every key regulated market. Becoming a part of such an operation will prove to be a significant boost to Wazdan's reach. Especially considering the fact that this company is looking to actively engage new markets.
Andrzej Hyla, Head of Sales at Wazdan, offered his take on the new deal and what it brings to the table: "We are pleased to see Wazdan slot games officially available to Singular's customers. The team are proud and humbled for the confidence Singular has in our technology-packed games, and we look forward to delighting their customers and extending our reach."
Robert Dowling, Chief Commercial Officer at Singular, also had a few interesting thoughts on the emerging partnership: "Wazdan's content portfolio of innovative casino games that deliver an original, reliable and truly omni-channel player experience will further support our strategic goal to empower clients' growth through online and offline convergence of players by providing an engaging game experience."
About:
Singular is an established content aggregator that is currently working with a wide range of top tier operators from all over the world. Headquartered in the United Kingdom, it offers some 7000+ casino games to its partners. The entire platform is built around the ideas of reliability, flexibility and innovation.
The team driving the brand forward is all about staying true to these three principles no matter how much the company grows. It is constantly on the lookout for new opportunities including new providers as well as operators to join its distribution network.
Source: "WAZDAN ANNOUNCES PARTNERSHIP WITH SINGULAR" https://www.wazdan.com/en/news/wazdan-announces-partnership-with-singular. Wazdan.March 18, 2020.
Author: Dusan Trifunovic