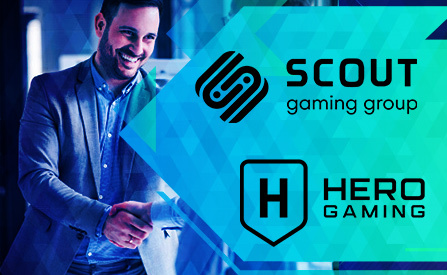 Scout Gaming has announced a new partnership deal with Hero Gaming.
The two companies have agreed upon a set of terms that will…
…help both sides meet their target goals for this year. This new cooperation is rooted in the exchange of content that will most likely grow in the future.
New Partners and Distributors:
Scout, a company with offices in Sweden and the United States, has signed a content deal with Hero Gaming. Per the new agreement, Hero will start offering its latest partner's products on its content aggregation platform.
Considering the scope of Scout's portfolio that includes fantasy sports as well as other products, it is expected to boost its partner's current standing in the industry.
This software provider has been focusing its efforts on higher tier operators who are known for their strict standards. Via the deal, Hero will be able to offer a fresh batch of games to their clients.
One of the…
…more interesting parts of this offer is the new jackpot product that Scout has been working on lately. As far as this company goes, it is gaining a massive distribution node with this deal. It is fully expecting to see tangible improvements in its revenue report for the second half of 2020.
Andreas Ternstrom CEO, commented on the new deal: "Since its inception, Hero Gaming has been a socially focused operator with strong growth, and their current expansion of sports betting with our products is another step in that direction and is of course very exciting for us. The fact that another innovative operator chooses our products clearly shows that the market is ready for new sports products."
Vegard Rinne, Hero Gaming's Sportsbook Manager, also offered a comment: "We have an overall entertainment focus on our entire product portfolio and work continuously to ensure that we have a modern offering that puts the user experience first. With Scout Gaming, we are adding additional products to that theme, which will strengthen our product range in the sports aspect. Scout's sports products have a clear focus on individual player performance and offer our customers the possibility to win large prize pots with a relatively small effort, something we know is requested."
About Scout Gaming:
The software provider is specialized in offering fantasy sports and similar gaming content to the iGaming industry. The company is licensed by several jurisdictions while it runs offices in Sweden, the United States, Norway and Malta.
Driven by innovation, it is slowly becoming more and more popular among fans of sporting games. The company is constantly working on improving its portfolio and adding new solutions to its offer.
Source: "Scout Gaming signs deal with Hero Gaming" https://www.scoutgaminggroup.com/news/scout-gaming-signs-deal-with-hero-gaming. Scout Gaming Group. March 25, 2020.
Author: Dusan Trifunovic