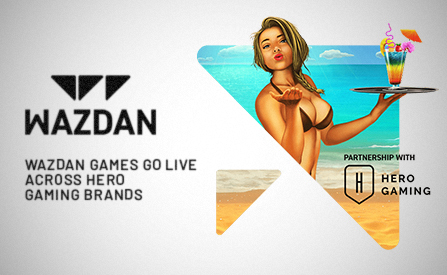 Wazdan Games, an up and coming studio that is on a path of expansion…
… has signed a deal with Hero Gaming which should yield mutually beneficial results in the future. The two companies have been working out the details of this partnership for a while.
It is no secret that Wazdan has been sending shockwaves on the market with their games lately. This brand has released some of the best-received titles this year so far.
Establishing relations with a company such as Hero is a massive step in their aggressive expansion strategy.
Accessing New Infrastructure:
One of the main benefits that Wazdan will be taking advantage of is the considerable infrastructure that the supplier brings to the table.
Namely, they will gain access to all five of Hero's brands. These include the CasiTabi.com which…
… operates mainly on Japanese markets, the Casino Heroes tasked with servicing Sweden and the rest of Scandinavia with great online casinos, and others.
On the other hand, Hero Gaming is also gaining a lot from this contract. Wazdan's games are becoming…
… a hot commodity and are a resource that deserves better exposure. It is highly likely that Hero will attract more customers and pique the interest of their existing user base with new slot games.
Sven de Waard, Casino Manager at Hero, offered his insight into the new deal, saying: "We are excited to launch Wazdan games through our five Hero Gaming brands. Hero Gaming was founded with the drive to deliver experiences that are innovative and not traditionally seen in the gambling industry, and we believe that Wazdan shares these values and will help us to offer unique experiences to our players. Both organizations have been growing strong these past years, and we look forward to growing together in the years to come."
On the other side of the aisle, Andrzej Hyla, Head of Sales at Wazdan is offering a similar sentiment: "It's a pleasure to partner with Hero Gaming and release Wazdan games through their key brands, Speedy Casino, Speedy Bet, Casino Heroes, Betser, and CasiTabi. This partnership further expands the reach of our games across the Scandinavian region and the Japanese market, where we are excited to develop. Hero Gaming and Wazdan share the same commitment to innovation, and this shared value makes us confident of the first class experiences we will be able to deliver through this relationship moving forward."
About Wazdan Games:
The company has been operating in the iGaming industry for over 10 years. During that time, this studio has worked on server side solutions, designed critical infrastructure for online casinos…
… obtained several licenses and most importantly, created a number of awesome games. Today, they are expanding their operation into new markets and making deals with strategic partners from all over the world.
It is fair to say that this studio will see further growth as soon as the end of this year. So far, the future looks bright for Wazdan Games.
Source: "WAZDAN GAMES GO LIVE ACROSS HERO GAMING BRANDS" https://www.wazdan.com/en/news/wazdan-games-go-live-across-hero-gaming-brands. Wazdan. July 8, 2019.
Comment: If this deal means more Wazdan games, I'm all for it.
Author: Dusan Trifunovic