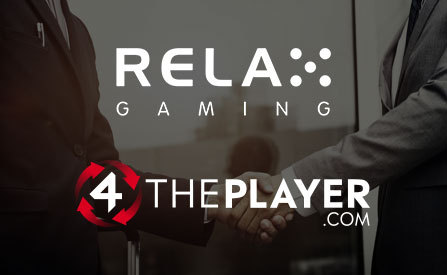 Relax Gaming (RG), a premier software provider in the iGaming industry, has added one more name to the list of partners working together with their Silver Bullet platform. 4ThePlayer.com has joined the fold…
…and gained access to a vast variety of operators the platform works with. This new partnership deal between the companies promises to yield long term benefits to both parties.
Tapping into the World of High-End Slots:
Silver Bullet is oftentimes presented as a standalone entity. However, the influence that RG has on this platform isfelt whenever new partners are signing onboard. That doesn't come as a…
…surprise considering that the two are working closely together. 4ThePlayer.com's decision to join the fold means that another studio from the United Kingdom will offer its content on the platform.
4ThePlayer.com is one of the youngest studios in the industry and one that shows a lot of potential. This is especially true considering that it was founded by Andrew Porter who…
…enjoys a reputation of an experienced industry veteran. The company will be releasing its future slot games through the Silver Bullet platform along with a large number of other providers.
Despite being a fairly recent platform itself, it has managed to sign on over390 operators. That means that providers working with this platform are gaining access to a massive pool of new users from all over the world.
Focusing their Efforts:
The new deal works out for 4ThePlayer in the sense that they no longer have to worry about the logistics part of the business. Instead, they can focus all of their efforts into developing…
…new and exciting slot games.
Simon Hammon, Chief Product Officer at RG, said: "We are delighted to welcome 4ThePlayer.com into the Silver Bullet partner program, significantly boosting the top-tier range of products we are able to offer our operator partners. The provider is fast carving out a great reputation in the industry for its forward-thinking approach to game development, and it is excellent to have this knowledgeable studio on board."
Andrew Porter, Founder of 4ThePlayer.com, said: "Signing with Relax Gaming is another step towards our goal of building the ultimate gaming experiences for players around the globe. Aside from the fact that Relax has an experienced team who have been running a successful third-party business for many years, they understood what we were trying to achieve with some of our crypto format inspired real money games."
About the Developer:
Relax is a veteran software provider that offers niche slot game solutions to the iGaming industry. Founded in 2010, it didn't take long before this brand…
…became one of the more recognizable brands in the business. Furthermore, they've created one of the most popular content aggregation platforms called Silver Bullet, which works with a wide range of providers as well as operators.
Source: "Relax Gaming signs 4ThePlayer.com as latest Silver Bullet partner" https://relax-gaming.com/news. Relax Gaming.November 11, 2019.
Author: Dusan Trifunovic