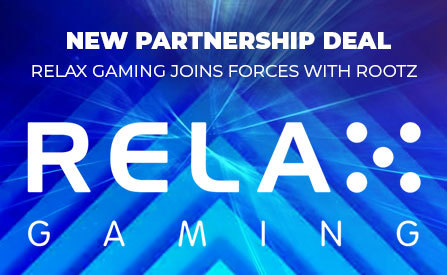 Relax Gaming (RG) is keeping up with their expansion plans. The latest victory on this front comes in the form of a new partnership deal being signed…
… between this company and Rootz – one of the premier operators and niche software providers in the industry.
The new deal is looking to solidify Relax's position and establish them as one of the more serious names in the business.
Mutually Aligned Expansion:
While RG has been on a full-on campaign to conquer new markets through new partnerships, so has Rootz. This new deal is serving both parties in their goals to reach new users all around the world. It is arguable that Rootz is getting a slightly better part of the bargain here since Relax is pledging to open up their entire portfolio to this operator.
Rootz will push their new partner's titles through Wildz – their flagship online casino brand.
Both parties have offered comments on the new partnership.
CEO of Relax, Daniel Eskola, has stated: "We're delighted to supply Rootz with our catalogue of innovative and engaging games as the operator sets its sights on European expansion. As a new brand on the scene, we're looking forward to supporting Wildz in hitting the ground running at the start line of its casino journey."
Over at Rootz, they are fully appreciative of RG's existing infrastructure and ability to integrate their slot games into new platforms with ease.
Lasse Rantala, CEO at Rootz Ltd, has offered a comment on the new deal: "Integration can often be a headache, but not with Relax. Their knowledgeable team has made integration a pleasant business with competent personnel, a well-built API, and a robust selection of third-party integrations. Additionally, their roadmap is quite impressive suggesting that Relax Gaming is diligently focused on future growth."
The overall consensus is that Wildz is most likely going to thrive thanks to the proven portfolio from Relax. The new casino is already enjoying the…
… full extent of its latest partner's platform solutions. With such a strong arsenal of titles, there are most likely going to be very few competitors capable to go toe to toe with them.
About:
Rootz is a young company that was founded in 2017. However, the team behind this name has decades of experience between themselves. Not only that, but it is comprised of a…
… handful of highly respected veterans of the iGaming industry. With such a motivated and experienced team, this company has managed to accomplish a lot in a very small amount of time.
Their online casino solutions feature some of the most modern and smoothest running frameworks on the market. This company has always been focused on efficient programming, which is…
… more than apparent to anyone who has ever used their B2B services. Considering their most recent plans to expand into a number of highly contested markets, it is arguable that they are on a path of linear growth without any plans to slow down.
Source: "Relax Gaming expands operator network with Rootz" https://europeangaming.eu/portal/press-releases/2019/07/15/50495/relax-gaming-expands-operator-network-with-rootz/. European Gaming. July 15, 2019.
Comment: Relax is definitely on a warpath with their expansion this year
Author: Dusan Trifunovic