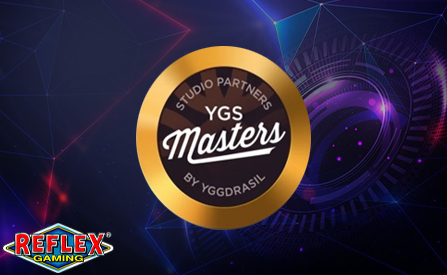 Reflex Gaming has officially joined YG Masters – a partnership program setup by Yggdrasil Gaming.
By inking this deal, it is gaining access…
…to a massive network of resources, partners, and operators who will give its games the recognitions they need in the modern markets.
Landmark Deal:
Via the partnership, this veteran of iGaming is gaining access to some of the…
…most modern technologies in the industry. Yggdrasil's GATI standardized technology brings all YG Masters partners a uniform set of tools they can use to improve their offer and have it meet Yggdrasil's level of quality.
Furthermore, YG Masters tools allow for easy and seamless distribution of content to a variety of top tier providers. The deal with Reflex is the second such deal that this developer has signed in the last few weeks.
Founded in 2004, Reflex is headquartered in the United Kingdom and is one of the largest independent game providers servicing the land-based niche.
After achieving a decent amount of success, it…
…slowly crossed over to the online side of the business. The addition of their slot games is arguably going to add diversity to the YG Masters program.
Stuart McCarthy, head of partner strategy and sourcing at Yggdrasil, said: "Reflex is a company we have admired for many years and it is great to be able to partner together via our award-winning YG Masters program, powered by the revolutionary GATI technology. Reflex's products are second to none in the digital land-based sector, with particular dominance in the UK and the Netherlands. Joining the YG Masters program and integrating with GATI will enable them to fully achieve their global growth potential across a host of new markets and other verticals, including online and mobile. We can't wait to get started."
Mat Ingram, CPO at Reflex Gaming, added: "We are very excited to partner with Yggdrasil and join the YG Masters program which has made fantastic inroads for member studios. Integration through Yggdrasil's GATI technology will give us a huge opportunity to both scale and extend our business operations into several new and exciting areas, channels, and markets in a highly efficient and effective manner."
About:
Yggdrasil is a Swedish software provider that has shaped the entire Nordic region when it comes to iGaming content. The company quickly grew from a gaming studio into a content platform that is looking to innovate the way iGaming content is being produced and distributed.
Source: "Reflex Gaming joins Yggdrasil's YG Masters programme" https://www.yggdrasilgaming.com/news/reflex-ygmasters/. Yggdrasil Gaming.May 21, 2020.
Author: Dusan Trifunovic