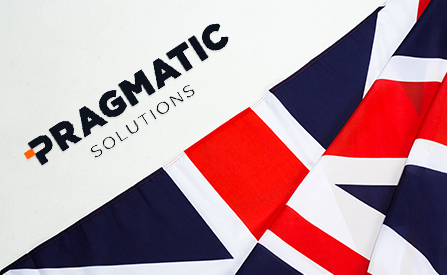 Pragmatic Solutions, a software developer dedicated to creating advanced integrated platforms for the iGaming industry, has announced that it is entering the UK market.
This news comes after the company was awarded…
…UK certification by the governing regulatory body. With new doors opened, this software developer and their partners can look forward to a larger audience.
Entering New Markets:
Pragmatic has been working hard to secure certifications in numerous European markets. The news of this company's success with UK certification comes at the heels of a similar endeavor in Malta where they also secured a license.
With the official license in hand, it can now market its PAM platform to clients who have vested interests in the United Kingdom's regulated space.
The latest development is proof of sorts that its platform is gaining a lot of traction among clients from all over. The company has…
…developed a highly competitive platform that offers levels of integration and customization that was simply never seen before on the market.
By quickly gaining access to new markets, Pragmatic is promising to greatly improve its position in the industry and…
…increase the exposure of their new platform.
Pragmatic Business Development Director, Mark Woollard, has offered a more in-depth explanation: "This latest certification shows the platform's capabilities when under the most focused spotlight. Pragmatic has worked extremely hard in 2019 to expand their business and this latest certification is a testament to the team's ability to move quickly and effectively to meet client demands. The UK is a busy marketplace but we believe that our offering, promoting complete client control, is something which operators will find refreshing. We look forward to having many conversations with UK businesses moving forward."
What is PAM?
PAM is a platform designed to meet all of the needs and requirements of online casino operators working in…
…modern regulated markets. The platform was developed to be flexible in every sense that matters.
Completely based on APIs, it offers complete and easy integration with all major…
…providers currently on the market. Despite being a highly complicated system, PAM is intuitive and requires little training. This is attributed to…
…a complete UI that runs in tandem with a powerful CMS. Aside from simple integration, Pragmatic Solution also claims high stability as well as the ability to scale the platform to meet the size of any operator's business.
Whether it is 100 slot games or 1000, Pragmatic claims that their new system is more than capable of handling the job.
Source: "Pragmatic Solutions extends reach with new UK certification" https://pragmatic.solutions/press-releases/pragmatic-solutions-extends-reach-with-new-uk-certification/. Pragmatic Solutions. August 5, 2019.
Author: Dusan Trifunovic