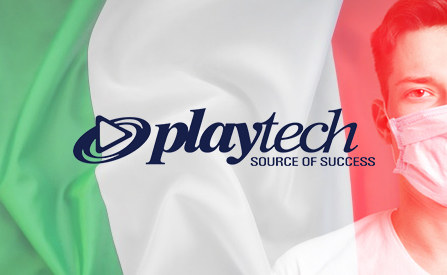 Playtech, one of the leading software providers and iGaming suppliers, has announced that it will be shutting down itsSnaitech network in Italy. This decision comes in light of the government's instructions put in place to curb the spread of the new virus.
Contributing to the Fight Against COVID19:
Playtech, a slot game provider and iGaming supplier, has been put in a difficult position with the onset of the COVID19 pandemic.
This company's Snaitech network of over 1500 retail betting locations has been temporarily…
…shut down. The decision to cease operations came after the Italian government issued a set of emergency measures meant to limit the spread of the SARS-CoV2 virus, also known as COVID19.
As part of said measures, all betting shops, arcades, bingo halls, and gambling establishments are ordered to be closed until April 3. Such strict measures were deemed necessary following what is arguably one of the worst outbreaks of this new virus anywhere in the world.
Italy is currently suffering the worst effects of the virus with a record high mortality rate and a number of infected that is second-largest after China. The country is taking more and more measures in an effort to regain control over the situation, however, the situation is still highly volatile.
Not so long ago, Playtech had released its annual results which showed that Snaitech has had an "outstanding" 2019. This company has noted a similar performance trend at the beginning of the year, although their own records show a slight anomaly that is attributed to the onset of the COVID19 epidemic.
Plan of Action:
Playtech is hoping that its online casino operations are enough to mitigate the effects of Snaitechshutdown. Since the entire country is under lockdown and freedom of movement is extremely limited, more and more players are deciding to tap into their favorite forms of entertainment online. On top of that, the brand recorded an increase in market volatility which has had positive performance implications on TradeTech – this company's trading platform.
Considering how little the world currently knows about the new virus, it is quite possible that the April 3 deadline could be moved further.
Italy's leading epidemiologists are arguing for much…
…stricter measures that would potentially help the country flatten out the infection rate and allow Italy's strained healthcare system to take a breath.
About Playtech:
The supplier is one of the largest online gaming software providers in the industry. This company has been around since its inception in 1999, and has since grown to become a leading authority when it comes to software development and new technologies. Known for its innovative spirit, Playtech has built a massive distribution network that includes a number of top tier operators from various key regulated markets.
Source: Narayan, Niji. "Playtech Closes its Snaitech Branches in Italy Amid Covid-19" https://europeangaming.eu/portal/latest-news/2020/03/11/65978/playtech-closes-its-snaitech-branches-in-italy-amid-covid-19/. European Gaming. March 11, 2020
Author: Dusan Trifunovic