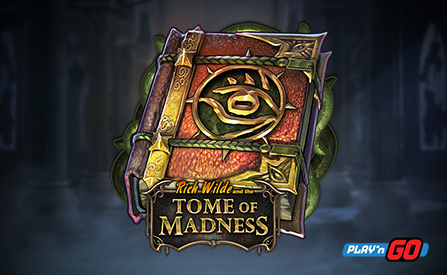 Play'n GO - one of the most active software providers this year - has announced the launch of another game in their most popular series, Titled Rich Wilde and the Tome of Madness…
…this fresh release features a sinister theme that would make H.P Lovecraft proud.
So far, we have seen him in all kinds of different settings. This new adventure comes as a welcome surprise, especially to those who are fans of the horror genre.
Impressive Visuals and Core Mechanics:
The first thing that caught the attention of many is the theme. Creators of this online slot are known for…
… going above and beyond in terms of visuals. The industry has had plenty of chances to see their work in previous installments as well as their other games.
The title steps away from the usual slot design found on most online casinos and features a 5x5 grid with cascading reels. The unique aspect of the game comes in the form of various wilds, all of which do something different.
The overall impression is that the game has a respectable user retention system in place.
Great Year for Play'n GO:
This most recent release was in the works for the software provider. Previous games from the series weren't only a financial success for the company…
…but they've also created a large following. As a result, many users became invested in the story.
The timing of this slot's release couldn't have been better. The developer has had an impressive year so far. They launched a few well-received titles, but more importantly…
… they were named, 'Mobile Supplier of the Year' during the EGR B2B awards
CEO, Johan Törnqvist, offered his insight on the whole series:
"Of course, it was always in the plans to bring back a character as popular as Rich Wild, players love him and his games, so it was just a case of finding the right adventure for him to go on. With our ambitions for 2019, we also felt now was a good time to bring him back into the fold and make him part of what will be our most successful year so far, and I'm sure he's not finished yet!"
Törnqvist's statement hints that Wilde's adventures are far from being over! It is left to be seen where the next installment will draw inspiration from. Will it be another famous author from United States?
Lovecraftian Influence:
One of the most unique aspects of the game is the obvious H.P. Lovecraft vibe. Creators of the theme went one step ahead and openly admitted to this by…
… putting one of Lovecraft's famous quotes in the intro.
Fans of this legendary author would recognize a broad array of different details and symbology that can be attributed to his work. The brand's decision to overtly use Lovecraft as an influence was met with a few raised eyebrows, to say the least.
However, the finalized package is proving to be a worthy tribute to this legendary author.
Source: "Rich Wild is back in the latest Play'n GO Slot Adventure!" https://www.playngo.com/news/articleid/1325/rich-wild-is-back-in-the-latest-playn-go-slot-adventure. Play'n GO. June 27, 2019.
Comment: As an H.P Lovecraft fan, I just have to give this slot a try!
Author: Dusan Trifunovic