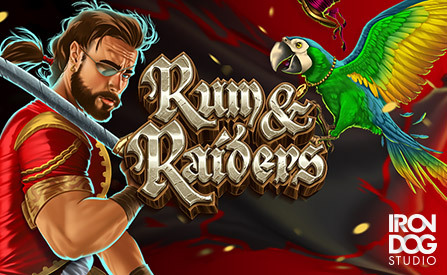 From swashbuckling mountains to sunken castles and treasure-filled ocean beds, Rum & Raiders gives players a one-of-a-kind online slot experience. Throw yourself into the piratical atmosphere, as Rum and Raiders whip up a wild wind nautical spirit! Players can even take home rewards as long as at least 3 matching symbols appear on the grid. Grab your pirate hats and join the crew in Iron Dog Studio's Rum & Raiders for winning opportunities like never before!
Betting Options and Math Model
Rum & Raiders is an online slot title that'll have you on the edge of your seat! With 5 reels and 40 active paylines, you can expect plenty of intense action every time you play. But don't be intimidated — this exciting game comes with an RTP of 96%,volatility is rated at 'med-high', and a minimum bet is just $0.2. Make use of those reels for a shot at winning up to 25000x the bet if luck is on your side!
The perfect combination of excitement and rewards awaits you — spin the reels for a chance at riches beyond belief!
Matt Whittington, Mathematician at 1X2 Network commented: "Evolving upon the ever-growing arsenal of Iron Dog Studio's Hold and Win games, Rum and Raiders comes aboard with a whole roster of pirates to help you Hold and Win the gold on a re-spin! One new feature I'm excited to see players enjoy is Rum and Raiders' bonus round: Broadside, where they'll plunder enemy ships for plenty of loot."
More on Iron Dog
In 2017, Iron Dog Studio was established as part of the 1x2 Network, a collaborative network of game developers working together to create innovative and immersive iGaming experiences. The Studio is dedicated to creating state-of-the-art visuals, featuring hand-drawn artwork and stunning 3D graphics. Since its founding, the studio has rapidly built a portfolio of titles that have pushed the boundaries of iGaming technology and pushed gamers' imaginations to their limits. From various online slots, it has brought an exciting combination of entertainment options to punters everywhere. Their titles have been celebrated for their engaging stories and unique art styles, bringing players into vivid virtual worlds that provide hours of exhilarating exploration. With its groundbreaking approach to game design, dedication from ambitious team members, and unwavering commitment to excellence in entertainment, it continues to receive rave reviews for its titles year after year.
Source: "High stakes on the high seas with Rum & Raiders from Iron Dog Studio". European Gaming. November 16, 2022.
Author: Ivan Stefanovic