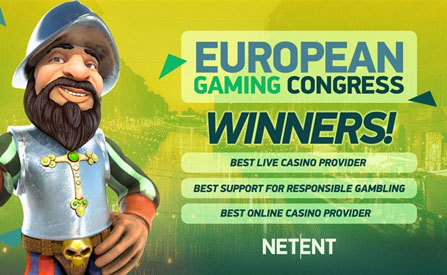 With the Southern European Gaming awards over, a number of companies have been recognized for their efforts in the iGaming industry. NetEnt has had…
…an especially successful performance at SEG, walking away with three different awards in rather significant categories.
Recognizing Decades of Success and Hard Work:
NetEnt has had a rather busy year with numerous slot game releases as well as other successful business decisions. Representatives of the company have joined a number of other industry leaders in…
…Radisson Bly Hotel Milan, Rome where Southern European Gaming Awards took place last week.
During the course of the ceremony, this software provider was recognized in three important categories. Namely, they have received the Best Online Casino Provider award for their innovative portfolio, Best Live Casino Provider as well as Best Support for Responsible Gambling.
No Surprise Here:
Considering the amount of effort the company has invested in its Live Casino suite, it comes as no surprise that the SEG commission decided to choose the brand over other prospective candidates. While NetEnt wasn't the first company to invest heavily in the Live Casino niche, their efforts from the last 12 months have put them at the front of the pack. They have had several groundbreaking releases that have given them a competitive edge.
Henrik Fagerlund, Managing Director of NetEnt Malta, shared his thoughts regarding the awards: "We are delighted to be taking home three of the SEG's esteemed awards after what has been a monumental year for NetEnt in Southern Europe. Our achievements in progressing our Live Casino and online portfolio, together with our responsible gaming developments, are thanks to the dedication and talent of our teams across the company. It is fantastic that this hard work has been recognized at such a high level."
Aside from their innovative efforts and product-related successes, this company also acquired Red Tiger Gaming this year, adding a massive…
…production capacity to their already sizable team. While RTG stands to remain an independent entity from NetEnt, there is a considerable exchange of skills, experiences, and technology going on between these two companies.
Being recognized in such competitive categories by the SEG commission is a great way to end the year for this company. Needless to say, NetEnt's distribution network is promising to grow…
…after the results of SEG awards. These rewards have only fortified this company's position as an industry authority.
About the Developer:
NetEnt is one of the largest software providers in the iGaming industry. With over 20 years of hands-on experience, its team has…
…been at the very edge of technological advancement in the industry. The entire company is set around growth culture. Ever since it was first founded, its goal has been to provide the market with higher quality entertainment as well innovation in areas where there wasn't any at the time. Such an approach to online casino content has allowed them to become one of the most trusted providers in the industry with a massive portfolio of partnered operators.
Source: "NetEnt scores hattrick at Southern European Gaming (SEG) awards" https://www.netent.com/en/netent-scores-hattrick-at-southern-european-gaming-seg-awards/. NetEnt. November 11, 2019.
Author: Dusan Trifunovic