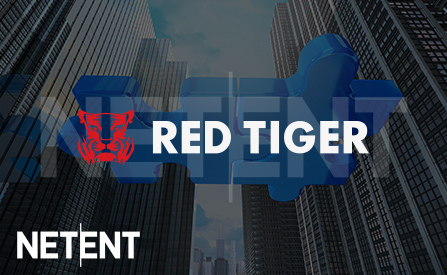 NetEnt, one of the leading software providers in the industry, has announced that it has acquired Red Tiger Gaming. The company has been purchased…
…in an effort to promote NetEnt's vision of becoming the largest provider in the industry.
High Stakes Acquisition:
NetEnt's acquisition of Red Tiger is one of the largest such events to have taken place this year. Red was taken over with 170 employees operating from Malta, Isle of Man and Bulgaria.
The company was purchased for an estimated GPB 200 million while there is a mention of a possible additional fee of GBP 23 million in 2022. This will depend… entirely on the acquired brand's performance by the end of the fiscal year.
As if the deal itself wasn't enough of a surprise…
…the company was purchased in cash.
The decision to acquire the developer has given the Sweden-headquartered giant a massive boost in terms of their production capabilities as well as slot portfolio. On top of that, the new member of the NetEnt family is estimated to bring in nearly GBP 18 million per year before taxes.
The Swedish developer will also gain full access to all of the scalable technologies created by Red Tiger.
Therese Hillman, Group CEO of NetEnt, has offered her comment regarding the new development: "I am very pleased to welcome Red Tiger into the NetEnt Group. The acquisition combines two of the leading and most innovative companies in the online gaming industry. We look forward to working with Red Tiger's fantastic team to enhance our combined global reach and to offer further value to operators and players. The transaction will provide significant revenue synergies across our markets worldwide."
Gavin Hamilton, Red'sCEO, has also offered his insight regarding the acquisition: "This is an exciting new stage of the Red Tiger story and we are delighted to become part of the NetEnt group. Accessing NetEnt's unparalleled distribution network and geographic footprint will unlock new opportunities for Red Tiger and will further accelerate our growth. At Red Tiger we'll remain focused as always on driving further innovation and we are looking forward to working with NetEnt on how to leverage our combined capabilities to create new products that wow our customers."
Red's products will most likely appear in NetEnt-affiliated online casinos as soon as the hand-over procedures are completed.
About Red Tiger:
Established in 2014 in an effort to bring high-quality games to players from all over the world, the company has managed to grow exponentially in a limited timeframe, establishing its presence in the world's most competitive markets. Its reputation has reached great heights thanks to a growing portfolio full of enticing and innovative slot games.
The company has also signed a large number of partnershipdeals which has allowed them to steadily increase the exposure of their products as well as services.
Prior to becoming a part of the NetEnt group, it has proven itself as one of the most innovative independent studios in the industry.
Source: "NetEnt acquires casino software provider Red Tiger" https://www.netent.com/en/netent-acquires-casino-software-provider-red-tiger/. NetEnt. September 5, 2019.
Author: Dusan Trifunovic