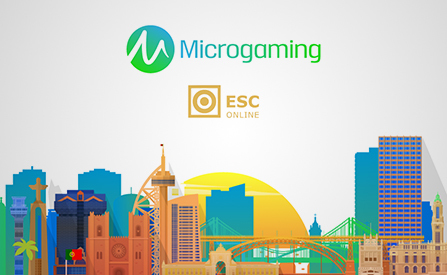 Microgaming has announced that they have signed a strategic partnership with Estoril Sol Digital from Portugal, which will allow this provider to…
…establish a better foothold in the Portuguese markets. This deal further enforces Microgaming's campaign of expansion in key European regulated markets.
Strategic Partnerships in Key Markets:
As one of the largest and oldest software providers in the business, the Isle of Man-based brand has been on a steady path of expansion. The company is looking to reinforce their presence in key regulated markets and…
…improve their market share against newly rising players as well as established competition. Portuguese markets were always on the crosshairs for the brand, who was in search of strategic partners.
With Estoril Sol, they have found exactly that. They will offer the entirety of their portfolio through Estoril's ESC Online brand.
Estoril Sol was the first licensed operator to enter the Portuguese regulated market when it first opened up. Over time, this company became the leading operator in the country, offering a variety of iGaming content to their customers.
Patrons of the brand's online casinos can enjoy a wide variety of slot games as well as table games such as blackjack. The addition of Microgaming's portfolio will serve as a massive boost to their offer.
Official Statements:
Andrew Clucas, Chief Operating Officer at Microgaming, has commented on the new partnership: "We are delighted to extend our offering into the regulated market of Portugal. ESC Online is one of the country's leading gaming brands, and we are thrilled to provide them with some of the most engaging and successful titles in the industry."
Rui Magalhães, CEO of Estoril Sol Digital, has also shared a comment about the new deal: "Providing our players with excellent content and customer experience has the highest importance to us. Our partnership with Microgaming signals our commitment to this. We set the highest standards for our ESC Online brand, and with the addition of Microgaming's exceptional casino titles, we look forward to bolstering our offering and providing our players with access to the largest and most diverse online gaming portfolio in the business. I am confident that through this collaboration we will continue to succeed in Portugal, as market leaders, and provide Portuguese players with a top notch entertaining online gaming experience."
Patrons of the ESC online casinos will gain access to Microgaming's portfolio of games as soon as the deal is finalized.
About the Developer:
Microgaming is one of theoldest software providers in the industry. The company has been operating since the early '90s, making a number of significant breakthroughs that have shaped the future of the iGaming niche as a whole.
This company was behind the first online casino software which they have debuted in 1994. Some 10 years later, they have also debuted first mobile casino software, thus starting a…
…whole new trend in the industry. The company is currently employing a massive team of talented professionals who are working together to deliver new and better games to the market.
Source: "Microgaming's award-winning content is live with Estoril Sol Digital in Portugal" https://www.microgaming.co.uk/News/Microgamings-content-is-live-with-Estoril-Sol-Digital-in-Portugal. Microgaming. December 23, 2019
Author: Dusan Trifunovic