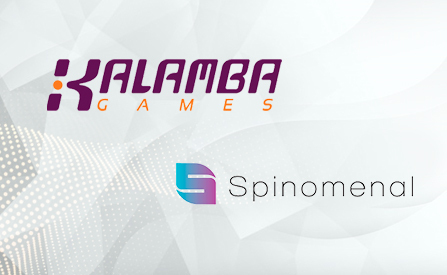 Kalamba Games, one of the premier software providers and slot game specialists, has just signed a partnership deal with Spinomenal.
Per the terms of this new agreement, Spinomenal will integrate its partner's Remote Gaming Server platform.
Adding a New Name to the Fold:
Kalamba has announced that it has gained another partner who has joined its Remote Gaming Server platform. Namely, this popular slot game provider from Poland has signed with its latest partner who will be offering its content through the RGS platform. The addition of this supplier will undoubtedly allow Kalamba to gain a competitive edge in key regulated markets.
With an industry that is slowly shifting towards content aggregation platforms as the select medium of content distribution, Kalamba is looking to sign as many established providers as it can. So far their expansion plan is going well with more and more names joining the fold. This means that its B2B clients such as Wildz Casino will have a much wider selection of games to choose from.
Access to Regulated Markets:
On the other hand, Spinomenal has just gained a new distribution hub that will give it access to some of the most contested regulated markets.
Tamas Kusztos, Head of Sales and Account Management, offered his comment on the new deal: "We're excited to be working with the team at Spinomenal and we're sure that this partnership will help us continue to propel the business forward. We're proud that Kalamba has quickly developed a solid reputation in the industry for engaging content that meets player and operator demands across many markets. With the opportunities presented by the development of our own RGS, the time is right to partner with similarly exciting content providers such as Spinomenal."
Lior Schwartz, Spinomenal CEO, also commented on the partnership: "Integrating with Kalamba is a really exciting chance to further strengthen our product distribution and our ability to deliver great games to a range of top tier partners. We look forward to developing a great partnership with the great team at Kalamba."
About Kalamba:
The software provider is specialized in designing and producing high-quality slots for the iGaming industry. The company wasfounded in 2016, making it one of the youngest established providers in the industry.
Since then, its team has focused on implementing innovative features into its games. Aside from that, this company has been developing its own content aggregation platform that currently works with a number of prestigious providers as well as operators all over the world. It is looking to expand its presence in the market as much as possible, adding new partners to its network.
Source: "We've integrated with Spinomenal" https://kalambagames.com/new-deal-spinomenal-integration/. Kalamba Games. March 20, 2020.
Author: Dusan Trifunovic