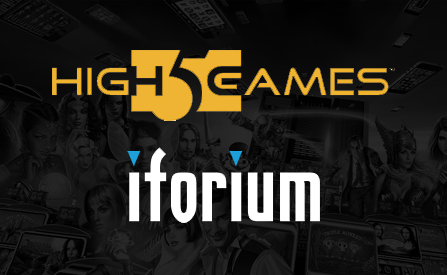 High 5 Games (H5G) has announced that its partnership deal with iForium has reached its final stages. Per the new agreement, the former will become a partnered provider for…
…iForium's Gameflex content aggregation platform. This will enable H5G access to new markets as well as new operators in key markets they already have a presence in.
Joining the Family:
High 5, development studio from the United States, has finalized the above deal that will make its entire portfolio of games…
…available to various partners around the world. All of this will be done via iForium's Gameflex content aggregation platform that is currently among the largest platforms of its kinds in the industry. H5G will be…
…accessing the platform with its A team of slot games including the ever so popular Goldstruck, Secret of the Forest, Way Out Wilds, Triple Double Da Vinci Diamonds and many more.
Opening the Door to Future Endeavors:
On top of that, operators partnered with iFourium can count on accessing whatever future projects and games H5G releases. The company has also decided to increase its exposure in Latin America in 2020, which might become a very popular region for the iGaming industry.
High 5's decision to join the iForium family puts them alongside more than 100 providers who offer 9,000 games via its platform. Gameflex is among the…
… most popular one-stop-shop solutions in the industry thanks to its simple and effective API that allows for very easy integration into any existing infrastructure!
Commenting on the deal, Phil Parry, CEO of Iforium, said: "High 5's catalog needs no introduction to our global customer base, and we're delighted to have them aboard. With both of us set to benefit greatly from the deal, we're looking forward to continuing our reach across global markets, none more so than in the US, where High 5 has more than 180 online slots already certified in New Jersey."
Anthony Singer, CEO of High 5, said: "Iforium leads the way in single integration casino aggregation, and we're very pleased to be further growing our presence together across European and US markets. We look forward to working closely together over the coming years across many exciting jurisdictions."
The newly added content will become available to online casino operators affiliated with the Gameflex platform as soon as the deal is finalized.
About:
High 5 is a popular software provider located in the United States. The company has been in the business of creating gambling-related content in one capacity or another since 1995. This makes it…
…among the oldest players in the industry. Currently, it offers a diverse portfolio of high-quality slot games optimized to deliver entertainment as well as potentially lucrative rewards to its players. With partners in numerous key markets…
…around the world, this company has become one of the most trusted content providers in the game.
Source: "iForium to add High 5 Games to Gameflex platform" https://www.high5games.com/iforium-to-add-high-5-games-to-gameflex-platform/. High 5 Games. January 16, 2020.
Author: Dusan Trifunovic