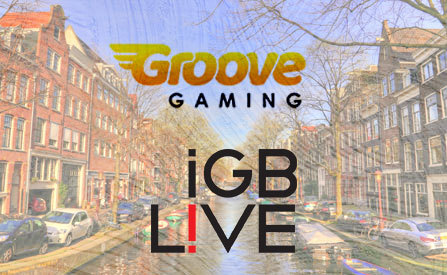 Groove Gaming, an up and coming software provider, is getting their groove on for iGB Live! in Amsterdam. The studio is going to be presenting their latest and greatest in the company of the most prestigious names in the business.
This is a big deal for the 3-year-old team that has already managed to make impressive connections…
…and establish a decent reputation in a highly competitive environment.
Among the Elite:
iGB Live! Amsterdam is the place to be when it comes to networking, staying up to date with cutting-edge technology and more. Groove has undoubtedly achieved a lot during these past few years, but presenting at this event…
… in an official capacity might prove to be among the most important moments in this company's existence. They will join over 650 different companies that include some of the largest platforms, affiliates, software studios and online casino operators in the game right now.
Held in the heart of Netherlands this year, iGB Live! is an international event that gathers the cream of iGaming industry. The organizer, iGaming Business, is known for running a…
… tight ship with a highly dedicated team at the helm. This year the event will last from July 16 to July 19 and will include presentations from all over the industry.
Groove is expected to deliver an interesting presentation. They have signed a number of strategic partnerships with big-name…
… players from distribution as well as the software design side of the business.
Yahale Meltzer, COO for the brand, commented on their participation at iGB Live! this year: "Amsterdam is certainly the place to be for our industry and partners during July. The upgraded iGB Live! show will be setting the scene for a lot of operator activity this summer and GrooveGaming aims to be at the centre of that. To celebrate what has been a meteoric rise in the gaming world in less than 2 years at iGB Live! we look forward to forging new relationships and building on existing ones."
It is no secret that this United Kingdom licensed company has sprung towards the top of the industry in a very short time. While some questions were raised regarding the sustainability of such growth…
… Groove has proven to be more than capable of handling such an aggressive expansion policy.
More:
Groove was established in 2016, with the goal of answering the needs of an ever-evolving iGaming industry. The team running this studio is made up of professionals who…
… have plenty of experience in both online business and e-commerce.
They have quickly proven their worth by coming up with niche solutions that allow online casinos to completely bypass or at least solve various infrastructural issues.
So far, the company is showing a lot of potential and is having a very productive year.
Aside from their own products, they are also being noticed for their networking capabilities. By all accounts, 2019 is going to be a good year for the brand
Source: "GrooveGaming getting into the groove for iGB Live!" https://europeangaming.eu/portal/press-releases/2019/07/05/49891/groovegaming-getting-into-the-groove-for-igb-live/. European Gaming. July 5, 2019.
Comment: These guys are fixing to become the next big deal in town.
Author: Dusan Trifunovic