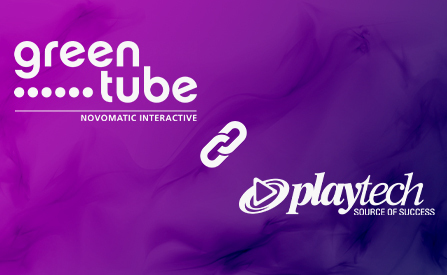 Greentube has signed a strategic partnership deal with Playtech. The NOVOMATIC Interactive division has recognized the potential its latest partner's distribution network brings to the table. Both parties are expecting to see the positive results of this cooperation soon.
Strong Industry Ties:
Greentube has been experiencing linear growth in the past several years. The company was busy delivering new games to the market, most of which have become successful in several key markets around the world.
Such a track record has prompted the company to step their efforts when it comes to expanding its distribution network. One of the latest partners to become a part of this growing system is Playtech.
Being one of the…
…largest software providers in the industry has allowed Playtech to start working on its own content aggregation platform.
It didn't take long before the Playtech Open Platform (POP) gained traction, attracting both top tier operators and providers from all corners of the industry.
The addition of its partner is bound to give POP a significant boost in….
…terms of content quality and diversity. Some of the slot games that will appear on this platform include Mighty Elephant, Diamond Link, Cash Connection Charming Lady among others. All of the new content will initially go live in Poland, Spain, the UK as far as Europe goes, while Playtech will also deliver it in Mexico.
An Advantageous Move:
Michael Bauer, chief games officer at Greentube, offered his comment: "Joining Playtech's games marketplace creates significant advantages for both our businesses: Playtech's customers will get access to our player-favorite titles that have proven to deliver strong results, while we will further accelerate our reach into key strategic markets. We believe this step comes at exactly the right time, as more and more European jurisdictions regulate and the Americas promise much room for growth."
Shimon Akad, chief operating officer at Playtech, also offered an insight: "We are very proud to have Greentube's vast collection of both classic casino games and modern interactive content available through our games marketplace. These games will be a valuable addition to our portfolio, providing our partners with titles that appeal to audiences ranging from traditional land-based players to new online slot fans. Playtech's scale and distribution is a powerful offering for potential partners, and this is a great example of our commitment to partnering with the right companies to bring great content to new and growing markets."
More on the Brand:
Greentube is one of the largest software providers in the iGaming industry. The company was founded in the early '90s and has since become one of the driving factors behind slot game development within the NOVOMATIC Interactive group. Today, it works with various top tier operators, delivering its games to players from all over the world.
Source: "Greentube teams up with Playtech in strategic distribution agreement" https://www.greentube.com/greentube-teams-playtech-strategic-distribution-agreement/. Greentube. May 14, 2020.
Author: Dusan Trifunovic