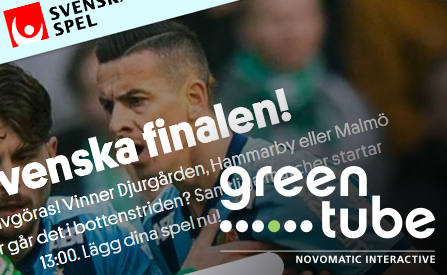 Greentube has finalized a partnership deal with Svenska Spel Sport & Casino. This newly formed relationship will open new doors for both companies. Patrons of this casino will have the chance to try out some of the hottest titles on the market at the moment.
Dominating the Nordics:
Sweden has always been one of the key European markets. Greentube's decision to join forces with Svenska Spel & Casino…
…only comes as natural considering the goals of this company. The Novomatic division was always interested in establishing a more permanent presence in this country's markets as well as gaining a more aggressive share of the market.
The deal with Svenska Spel allows them to achieve this to a certain degree. As a studio, their slot games will gain a massive amount of exposure, which is something this company is always looking for. This casino also happens to be one of the largest domestic casinos in Sweden, making it a prime target for a partnership deal of this type.
Lending its Entire Suite:
As a part of the agreement, Greentube will open up its entire portfolio of slot games to their new partner. Some of the best games from the portfolio will undoubtedly form the spearhead…
…meant to attract new users. This provider will showcase Book of Ra, Lucky Lady's Charm and other slots. Greentube's ability to establish a rock-solid presence in a new, heavily saturated market has been praised numerous times before.
David Bolas, Greentube UK Commercial Director, offered a comment regarding the new deal: "The addition of Svenska Spel Sport & Casino as a key partner is pivotal to our localized market strategy in Sweden. We believe Greentube content will greatly enhance the portfolio already available to Svenska Spel Sport & Casino players."
Jonas Nygren, VP Product Casino at Svenska Spel Sport & Casino, has also offered his insight into the whole thing: "Greentube has really strong titles in their portfolio that will strengthen our mix of already published games. Our customer base has been extremely engaged with their catalog of games and we look forward to a longstanding partnership moving forward."
About Greentube:
The Novomatic subsidiary started out as a standalone software development studio specialized in delivering high-end solutions to its clients worldwide. The company has been founded in 1998 under a different name only to become known by its current moniker in 2000. During that period, this growing brand made great leaps compared to the competition simply by putting the end-user first.
That type of policy put the brand on the radar of Novomatic who ended up acquiring them in 2010. Ever since then, it has had its fair share of autonomy. This already capable company was now granted access to much larger budgets and overall headspace when it comes to working out finances for a new game release. Today, its games are regarded as top tier by numerous critics.
Source: "Greentube goes live with Svenska Spel Sport & Casino" https://www.greentube.com/greentube-goes-live-svenska-spel-sport-casino/. Greentube. October 30, 2019
Author: Dusan Trifunovic