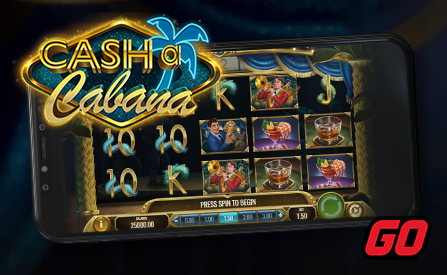 Cash-a-Cabana is the latest online slot game from Play'n GO, offering a decadent and glamorous world in one package. The Copa Girls' sultry openings of the dance night add a high-stakes element to the chic Cash-a-Cabana Club. Experience the atmosphere of Copacabana Beach in Rio de Janeiro or take a seat at the club in New York and smell the fragrant cigars and shrimp cocktails when you spin for big wins! All these exciting sensations await you, but it's only just a taste of what will start your night off with a bang. Get ready for the heat of Copacabana to be brought to life as you dive into Cash-a-Cabana slot and join Lola on her showgirl journey.
Slot Features
Featuring a striking 5x3 layout with up to 20 betways and bets starting at just $0.05 you can join the action whenever it suits you. Enjoy above average returns with an RTP of 96.20% and try your luck at unlocking the maximum win of 10,000 times your stake! Spin the reels to witness all sorts of special bonus features such as bonus spins, wild coins, and multiplier bonuses decorated in stunning graphics and animations - this tropical paradise awaits you!
Head of Games at Play'n GO, Charlotte Miliziano said: "With Cash-a-Cabana, we wanted to create more than a great game – we wanted to create a great experience and put players front-and-centre for a classic night out with exciting characters and fun features.
"From the moment players take their first spin, players will be immersed in the glamour of the experience – great graphics, unique gameplay and an ambiance that's aimed at ultimate entertainment."
A Little Bit More on Play'n GO
Play'n GO is a Swedish company that was founded in 1997 and has since become a force to be reckoned with in the online gambling content industry. Its portfolio of casino games, ranging from slots to table games, continues to wow customers, and has earned the respect of major operators worldwide. Not content with standing still, the developer also prides itself on its constant commitment to innovation and customer satisfaction, meaning that their high-quality products will remain at the forefront for many years to come. This hallmarks an exciting future for both the supplier and its ever-growing pool of loyal customers.
Source: "The Copa Girls high-kick to fortune in Play'n GO's Cash-a-Cabana". Play'n GO. January 5, 2022.
Author: Ivan Stefanovic