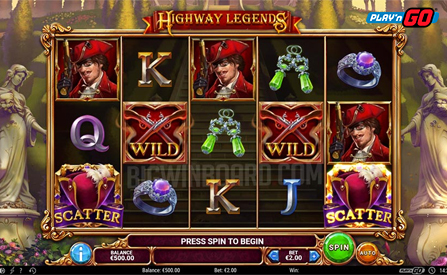 In the vibrant realm of online casino slots, Play'n GO has masterminded a thrilling game worth your time - Highway Legends. This historical extravaganza revolves around two captivating bandits, Swift Rick, and Lady Pearl, who put their ingenuity to the test, crafting intricate plans to snatch precious treasures.
Old-School Vibe
Far from the neon-lit skyscrapers and flashy sports cars of modern city life, Highway Legends transports players to an era where robust handguns were as large as shotguns. Here, our bandit duo, Swift Rick, and Lady Pearl, manage to outsmart their pursuers and gather wealth using a plethora of exciting features like the Cash Collect.
Set against the backdrop of a classic garden with elegantly crafted female statues reminiscent of ancient Greece, this game ensures an immersive playing experience. The game's logo majestically sits above the golden-framed reels, with a picturesque staircase behind leading to a grand building in the distance.
Packed with Bonus Features
Players can experience this adventure on a multitude of devices – desktop, notebook, or mobile. The gameplay is all about matching 3 or more identical symbols along any of the 20 paylines, from left to right, beginning with the first reel.
Players can secure wins by landing three glitzy symbols, with the in-game Wild presenting itself in three distinct forms – a Horseback Rider, Bandit, or Gold Plaque. Simultaneously, the Scatter takes the form of twin Golden Pistols on the reels, firing up bonuses once unleashed.
Money Bag Symbols, each with different cash values, can land on reels 1 to 4. Land this symbol on reel five, and you win the accumulated value, adding to your loot. The game gets even more exciting when three Golden Pistol Scatters trigger Extra Spins. Landing only two Scatters sets off a Re-Spin on the fifth reel, increasing your chances of snagging the elusive third Scatter.
Lady Pearl shines in the Sticky Wild feature, where Wild Symbols remain on the reels during the spin cycle, with additional Wilds accumulating as they roam. In the Stacked Wild feature, Swift Rick piles up to four Wilds on any reel, adding to the thrill with a dynamic animatic. Both these features are a vivid portrayal of our protagonists' cunning tactics as they collect as much loot as they can carry.
For those unfamiliar with the ins and outs of online slot terminologies, you may find it somewhat perplexing when terms like 'Wilds,' 'Scatters,' 'Re-Spins,' and 'Paylines' are thrown around. A resource that can guide you through this learning journey can be found here.
Source: "Play'n GO plot a prize-hunting heist in Highway Legends" Play'n GO. May 18, 2023.
Author: Ivan Stefanovic