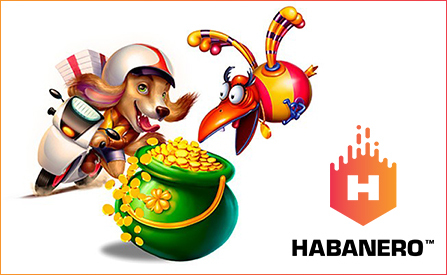 One of the main reasons why slots are generally so popular is because players can potentially win great prizes. As a great way to stimulate consumers, leading video slot and table game supplier popular in both Western and Asian markets, Habanero Systems, blasted off a fresh new pending jackpot system which can be utilized by a pool of winners.
How Does It Work?
In other words, it stocks up value as the race begins, during which time, the jackpot must be activated before the cut-off time.
Furthermore, once the payout occurs, the gamblers who are still playing are allocated winnings in order of the received bet on the server. The amount of the disbursement depends on the configurable prize pool.
Easy To Use:
The Jackpot Race is foolproof and comprehensible, enabling operators to set the parameters according to their criteria and needs. The same goes for the players.
Moreover, the company can pick a specified number of slots to include in the race, race schedule, the duration of the accumulation period, minimum qualifying bet size, race schedule, as well as the prize pool distribution.
For instance, an operator can choose six slots and a three-hour race period starting at 8pm on Friday night.
Moreover, the jackpot will amass value from all play outside of the race period and during it. At that precise moment, the Jackpot race will start.
At some point between 8pm and 11pm, the pay-out event will be activated with the possibility increasing towards the end of the race.
Winners will receive their rewards based on the pool. For example, 50% for the one who comes first, 30% for the ones who comes second and 20% for ten extra places.
Something New And Refreshing:
This innovation will certainly put a smile on the faces of everyone who enjoys thrilling gaming experiences with potentially huge rewards.
Toni Karapetrov, Head of Corporate Communications at Habanero, talked about this and stated:
"We are delighted to release Jackpot Race. We call it the Jackpot Race because it is both competitive by design, and because many players can win simultaneously on a split share of the pay-out.
The offering includes assistance with customised promotional content, as well as all the built-in feedback and dialogues within the game which will serve to keep excitement high.
And, of course, it gives operators the opportunity to fully customise their very own Jackpot Race. We are sure players and operators alike are going to be delighted by this exciting addition to our portfolio."
Source: "Habanero Offers A Slice Of Jackpot Race" https://europeangaming.eu/portal/press-releases/2019/02/07/38296/habanero-offers-a-slice-of-jackpot-race/. European Gaming. February 8, 2019.
Comment: Oh my God! This seems nerve-wracking. Not sure if I should be playing this!
Author: Ava Jackuard