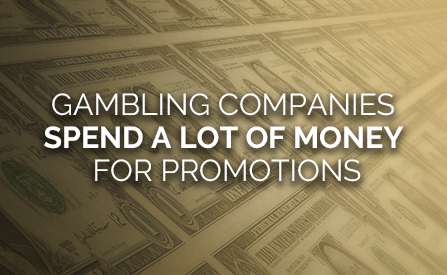 According to the newest financial analysis and reports from respectable industry specialists, Regulus Partners, various gambling companies are spending large sums of money to promote their business. The situation has changed drastically since 2014 and has risen by 56%. They now spend around £1.5 billion!
Television VS Internet:
Over the last couple of years, the popularity of internet has risen drastically, therefore, it's no surprise that these firms have decided to use it more in comparison to television. It has become their biggest source of advertising.
Some statistics have shown that most marketing activity is based on the internet and that these corporations are now spending five times more than on television!
Today, you can find a plethora of places where you can get more information about these expenditures, such as audited accounts of the top publicly listed operators and other similar financial data for both offshore and private organizations.
These reliable sources can give you more details when it comes to spending money (and the amounts) on marketing during 2017.
Where Did All the Money Go?
We are going to list the areas where most money went in 2017:
Direct online internet marketing costs – £747 million was spent on this
Affiliates – There are various types of them that can be used for these purposes. For instances, publications and websites earn a great deal of money on commission for bringing more business to the gambling companies. Around £301 million was given to them.
TV Gambling – Almost £235 million was disbursed here
Social Media – It looks like they are slowly starting to replace other types of marketing. According to some reports, approximately £149 million was paid for this, which is more than tripling over the last three years.
Sponsorship – Last, but not least. £60 that was given for it, showcases that they've spent twice as much in comparison to 2014.
Overall, these statistics show that eighty percent of gambling marketing is given to the online sources It is true that you can still find other forms of advertising, however, internet is most frequently used.
There is more detailed information regarding the costs of this, but they are strictly confidential and practically unattainable. The only ones who managed to achieve some results when it comes this topic are the experts from Regulus Partners.
Marc Etches On This Topic:
The CEO of independent charity, Gamble Aware, gave his opinion:
"Children are growing up in a very different world than their parents. The Gambling Commission reports that 59% of 11-16 year olds have seen gambling advertisements on social media, compared to 66% on television. One in eight 11 to 16 year olds follow gambling companies on social media, and they are three times more likely to spend money on gambling.
Of those who have ever played online gambling-style games, 24% follow gambling companies online. Compared to other potentially harmful activities, the rate of gambling in the past week among young people is higher than the rates of drinking alcohol, smoking cigarettes and taking illegal drugs. This underlines the need to treat gambling as a public health issue."
Source: "Gambling Companies Spend £1.2 Billion Marketing Online, Five Times More Than On Television Ads"https://europeangaming.eu/portal/press-releases/2018/11/28/33678/gambling-companies-spend-1-2-billion-marketing-online-five-times-more-than-on-television-ads/. European Gaming. November 28, 2018.
Comment: I knew that these corporations are spending lots of money, but I didn't know it was this much! Shocking!
Author: Ava Jackuard