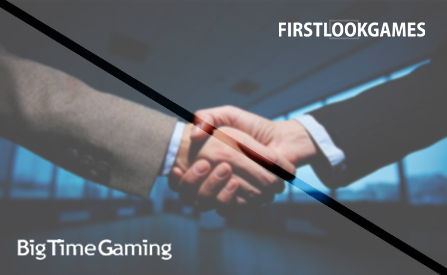 First Look Games and Big Time Gaming (BTG) have signed a partnership deal that will…
...allow First Look to gain and share insight on the developer's games with their affiliated online casinos. In return, BTG will upload their entire portfolio onto their new partner's content platform and…
… access a whole new user pool.
Reaching New Markets:
Becoming a part of First Look's massive network will bring more attention to the supplier's portfolio of hit slot games. The company is…
…entering the affiliate sphere for the first time with this move. This can count as a testament to…
… First Look's ability to market software providers and make their products much more attractive to online casinos. This marketing company based in the United Kingdom is coming up with new ways to improve its client's businesses.
Tom Galanis, founder of First Look Games, offered his insight into the new partnership: "Big Time Gaming is one of the hottest slots developers in the world right now, and we are delighted they have chosen First Look Games to help market their titles via online casino affiliates. Big Time Gaming needs no introduction, but by leveraging the power of the First Look Games platform, the developer will be able to reach more players than ever before,"
Nik Robinson, CEO of BTG, stated: "We've never pushed out our assets to affiliates before, we have just let the games speak for themselves, however, Tom's unique approach will enable our games to shout from the rooftops! Online casino affiliates will now have our game content at their fingertips ahead of time and in some cases for the first time which will enable our games to reach players in markets all over the world thanks to First Look Games terrific product offering,"
He further said: "Not only will the platform increase the scale and scope of the exposure we are able to generate for our titles, but it will also help improve compliance and ensure the information affiliates are publishing about our games is 100% accurate. We are also in the process of putting together a range of fun, nugget sized promotional videos for all our content to help casinos and affiliates make the most of our brands."
About BTG:
The developer is one of the more prolific software development companies in the industry who specialize in delivering engaging games that…
…have high player retention value. One of their strongest assets is their team. The brand employs a number of highly experienced professionals who know the industry inside and out.
Along with their talent for their respective fields, this team is constantly driving the company forward with high quality, captivating games.
Their current lineup of games includes some of the top-ranking slots on the market. This type of quality content has allowed BTG to…
… gather a large following as well as an extensive portfolio of business partners.
Source: Narayan, Niji. "First Look Games Signs Deal with Big Time Gaming" https://europeangaming.eu/portal/latest-news/2019/07/30/51582/first-look-games-signs-deal-with-big-time-gaming/. European Gaming. July 30, 2019.
Author: Dusan Trifunovic