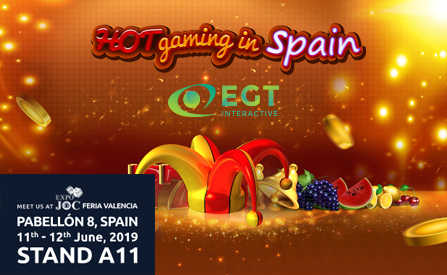 If we could describe EGT Interactive with one adjective, it would definitely be, 'unstoppable' – especially these days. They've been particularly active lately, visiting different crucial events and exhibiting their products.
Next Stop – Valencia:
These days, ExpoJoc in Valencia is in the spotlight, representing one of the most important events in this country when it comes to the gaming industry. Three months ago, they attended the successful expo in Madrid, and now this city has successfully captured their attention.
Last week, we wrote about one of the major events in Serbia which EGT attended as well and now they are continuing their journey across Spain. For those who are interested in visiting this event, it will occur on 11th and 12th of June at stand A11, hall 8 in Valencia Fair and besides them, their co-workers from land-based casino systems of Euro Games Technology will keep them company.
What's on the Agenda?
Namely, they will discuss their business opportunities and uncover how some of their video slots have managed to quickly become so successful. Furthermore, they are planning on talking about the HOT series that combines the omnipotence of their reel slots as well as the phenomenal experience and gameplay these games provide to players.
Moreover, they will exhibit some of their most popular titles including, Great 27, 20 Hot Blast, 5 Great Star, 20 Joker Reels, 40 Super Hot, Burning Hot, Zodiac Wheel, Amazon's Battle, Shining Crown, Caramel Hot and many other alluring slots.
All in all, this country is a very prosperous market when it comes to the gaming industry and it will surely be an awesome opportunity for EGT Interactive to gain new players. Besides, this event will also help them make some new amazing partnership with some other equally accomplished companies.
Crafting Only High-Quality Games:
Since they are one of the biggest corporations within the gaming industry, it would only be fair to provide you with some useful information about them. They are widely known for making cutting-edge online gaming software, as well as solutions and providing various casino operators with them.
Their dedication, diligence and creativity has allowed them to supply the world of online reel slots with some of the best games in the world. They represent a fast-growing company that is always hungry for more and their inventive approach earned them a place among the best ones in the world.
Finally, all of their games are based on the appealing Return-to-Player (RTP) strategy which is also one of their biggest virtues.
Source: "EGT Interactive As An Exhibitor Again At ExpoJoc Valencia" https://europeangaming.eu/portal/press-releases/2019/06/06/46873/egt-interactive-as-an-exhibitor-again-at-expojoc-valencia/. European Gaming. June 7, 2019.
Author: Tatjana Markovic