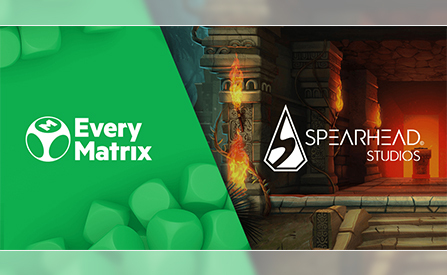 EveryMatrix, a software development company specialized in creating various tools for the iGaming industry, has announced that they have opened their first…
…game development studio. From now on, they will be able to develop their own content and officially enter the gaming side of the business as a provider.
Entering the Gaming Niche in Style:
The company is the latest brand to join the game development niche of the iGaming industry. The expansion of their development capacities comes at the heels of it acquiring Gaming Innovation Group's (GiG) studios in Spain. The latter has decided to get rid of the studio as the company moved towards different business opportunities.
Spearhead:
The newly acquired game development team will operate under the brand of Spearhead Studios as a direct subsidiary of EveryMatrix. Considering they've acquired a complete studio…
…the newly founded Spearhead will perform just about every game development task in-house. This includes slot game concept development and testing, JavaScript development, digital arts production, UI/UX design, animation, audio, QC and more.
At the end of the day, the studio will roll out complete titles for the market.
Ebbe Groes, group chief executive officer and co-founder, has offered a comment on the new development: "EveryMatrix is an established B2B brand and entering the game development sector was something which we wanted to do for some time now. Having a creative gaming studio led by a brilliant executive such as Mathias Larsson sets EveryMatrix apart in this competitive industry and we are confident that this combo is going to serve our clients and partners very well. The background for this acquisition is the tremendous success of our CasinoEngine product, which has strong synergies to Spearhead. However, we will keep the studio activity highly independent, winning market share on its own merits while staying true to our principles of full transparency and maximum coverage in CasinoEngine."
It is worth mentioning that Spearhead, under its previous brand, has already created a few successful titles. Their Book of Souls slot has achieved great success in various online casinos where it…
…debuted. So much so that over 20 million game rounds were played within the first 10 months of the game's release. That alone proves that despite existing for only two and a half years, this studio absolutely has the potential to deliver quality content to the markets worldwide.
About the Brand:
EveryMatrix is a software company specialized in developing and producing various tools used in the iGaming industry. Its most popular product comes in the form of its content aggregation platform that currently works with a wide range of content providers and casino operators. With an established presence in most competitive markets of Europe, it has proven to be…
…a stable partner and a reliable source of back-office solutions. Aside from the platform itself, this brand also offers one of the more popular cross-product bonusing engines in use today. With all that said, its trait is the ability to seamlessly integrate content into any piece of infrastructure out there.
Source: "EveryMatrix launches into gaming development with Spearhead Studios" https://everymatrix.com/everymatrix-launches-into-gaming-development-with-spearhead-studios/. Every Matrix.com November 21, 2019.
Author: Dusan Trifunovic