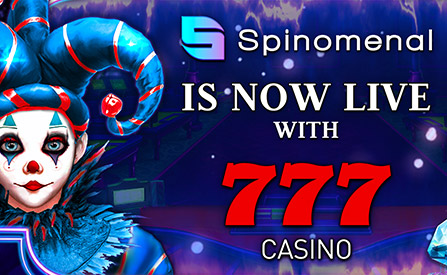 The gaming universe just got a massive upgrade! Buckle up, Belgium and the Netherlands, because Casino777 has teamed up with the exceptional game provider, Spinomenal. It's not just about adding more games; it's about redefining your entire gaming experience.
Gateway to Adventure
Thanks to the collaborative efforts facilitated through Light & Wonder's OpenGaming platform, the residents of Belgium and the Netherlands can now dive into an eclectic portfolio of games offered by Spinomenal. Think of it as your portal to other worlds—worlds where graphics are so realistic, you'll forget you're staring at a screen.
But what kind of games can you expect? How about embarking on a moonlit chase in WereWolf – The Hunt, or going on a treasure hunt through the Lucky Jack – Lost Jungle? For those who prefer a sprinkle of fantasy, games like Fairytale Beauties and Athena's Glory are also part of the ensemble.
Rooted in Excellence
This isn't Spinomenal's first rodeo. Originating from Israel and the United States, the company was born in 2014 and has roots in social gaming. A sector that provided its initial breakthrough, social gaming helped Spinomenal build an expansive game library. Now boasting over 80 titles that span categories from Animals and Sports to Sci-fi and Romance, they have something for every gaming palate.
One thing that makes Spinomenal stand out is the technology behind its games. Created exclusively in HTML5, the games are cross-platform, meaning you can play them on any device. They are also optimized for low connectivity areas, boasting quick load times and minimal storage requirements. It's all about making your gaming experience as seamless as possible.
The partnership is set to skyrocket both companies to new heights, drawing in players who crave a richer, more engaging gaming experience. With the developer's expertise in crafting immersive games and Casino777's established reputation, it's safe to say that this is a match made in gaming heaven.
Lior Shvartz, CEO for Spinomenal commented: "We're very happy to partner with Casino777 and we expect strong results from our content partnership within Belgium and the Netherlands. These markets play an important role in our growth strategy and we're confident our games portfolio will prove a big success here."
Jennifer Dettori, Country Manager for Belgium at Casino777, added: "Casino777 is a pioneering online casino brand. We strive to satisfy thousands of players. We are very proud and excited about this partnership and to continue our commitment to providing our players with a successful new gaming experience!"
Source: Spinomenal strikes content deal with Casino777. Spinomenal. September 13, 2023.
Author: Ivan Stefanovic