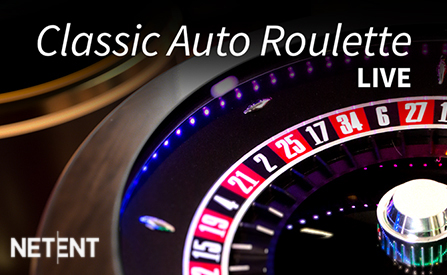 A brand-new live casino release has been announced by NetEnt – one that combines Classic Auto-Roulette, Rapid Auto-Roulette and VIP Auto-Roulette and creates a new, immersive environment.

The groundbreaking game is called Auto Roulette Studio and it takes the design and look of a classic casino room and gives it a modern, digital look through HD streaming through several camera angles, blue-screen technology and everything that creates a cutting-edge roulette experience.
A Deeply Engaging Title:
The hues of red gold adorn the modern and vivid setting…

…and the format of the game allows the choice between three roulette wheels that can be viewed in one screen, giving players the ability to switch from one roulette to another. This creates an immersive design that suits different playing techniques.

Auto Roulette Studio is scalable to many markets with voiceovers in 12 different languages.

Director NetEnt Live, Andres Rengifo, says:

"As one of the first suppliers to offer a multi-reel gaming experience, the Auto Roulette Studio is one of our biggest releases of the year and underlines the scalability we offer to operators. It is a deeply engaging title supported by fantastic design and cutting-edge technology that will no doubt set a new standard in auto roulette."
Segment Overhaul and New Releases:
In 2019, NetEnt has given their Live Casino suite a good and thorough overhaul…

…such was the release of Network Branded Casinos, a two-room casino environment that brings the traditional casino setting online.

The Swedish company, which recently joined forces with Live Fraud Solutions, has released two new slots in recent weeks…

…first came the latest edition to their NetEnt Rocks! franchise – Ozzy Osbourne, the game inspired by the legendary Black Sabbath singer and the godfather of heavy metal.

After that, they've released Santa vs Rudolf, the Christmas-themed slot with a 5x3 configuration.
NetEnt's Bryan Upton said of the release:
"Santa vs Rudolf is following on from the huge success and laughs of Jingle Spin and a merry addition to our seasonal portfolio that perfectly captures the joy and cheer of this holiday season.

Santa vs. Rudolf continues the humorous trend with goofy antics from our two favorite holiday heroes battling it out for seasonal supremacy. This narrative will be hard to resist even amongst the scrooges in our player base! Happy Holidays!"

Source: "NetEnt launches Auto Roulette Studio" https://www.netent.com/en/netent-launches-auto-roulette-studio/. NetEnt. December 3, 2019.

Comment: Nice. I can't decide who makes better live casino games, NetEnt or Evolution Gaming.
Author: Dusan Trifunovic