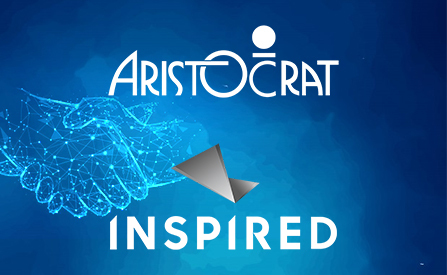 Aristocrat Technologies Europe, the European division of this popular Australian software provider, has announced that they have signed a content deal with Inspired Entertainment.
The company is looking to expand its reach in key European markets with this deal, considering the immense network that Inspired has to offer.
Strategic Partnership Opportunities:
Aristocrat has been looking to improve its position in Europe. The company has been looking for potential partners through its European subsidiary. Working with its latest partner was a…
…logical choice as this company runs one of the largest networks in markets Aristocrat is interested in. As a result of the newly signed deal, Aristocrat Technologies Europe will offer its products across Inspired's terminals in the United Kingdom, Italy, and Greece.
Official Statements:
Matt Primmer, Aristocrat's Chief Product Officer, Land Based, offered his thoughts on the new deal: "We are excited to be partnering with Inspired to bring our globally renowned gaming content to more customers and players in more market segments across Europe. This agreement expands Aristocrat's growth opportunities in certain EMEA market segments and provides another channel for the monetization of our powerful game content. We look forward to working with Inspired to deliver benefits for our businesses, players, and customers in these markets going forward."
Brooks Pierce, President and Chief Operating Officer of Inspired, also shared a comment regarding the partnership deal: "These particular geographies have very high barriers to entry. As a leading provider with more than 33,000 machines on an open server-based gaming platform that offers seamless integration of third-party content, we are thrilled to add Aristocrat's iconic titles to our content portfolio, bringing to our customers unparalleled diversity from popular industry games."
Patrons of land-based casinos where Inspired owns and runs terminals will soon be able to try Aristocrat's selection of video slot games. The new deal is…
…promising to give Inspired a new competitive edge. On the other hand, gaining access to such a massive network of terminals spread out in some fairly competitive markets is a win for Aristocrat. Both companies are…
…standing to gain a lot from this strategic partnership.
About:
Aristocrat is a software provider mainly working in the land-based niche. The company was founded in 1953 and has worked on developing physical slot machines. A few years later, in 1956, it introduced…
…the Clubmaster slot machine – a game-changing machine that brought many important features related to gameplay but also slot machine design. Needless to say, the company experienced steady growth…
…ever since then and has followed the progression of technologies within the industry. It is still focused mainly on land-based operation although they have entered the online casino scene with…
…the acquisition of Plarium Global in 2017. Overall, it is working towards expanding its reach in the key markets around the world and developing new technologies within their niche.
Source: "Aristocrat Partners with Inspired Entertainment to deliver Aristocrat Game Content to more EMEA Markets" https://www.aristocrat.com/aristocrat-partners-with-inspired-entertainment-to-deliver-aristocrat-game-content-to-more-emea-markets/. Aristocrat. February 5, 2020.
Author: Dusan Trifunovic