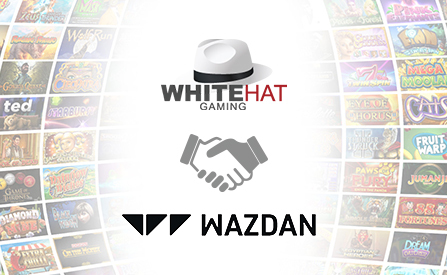 Sometimes we wonder if a certain company is sleeping at all, due to the fact that we continuously hear something new from them. Do you know who we are referring to?
If Wazdan was the first thing that came to your mind, then you are right! One of the most popular developers in the world has taken another strategic step…
What Did They Do?
Besides creating phenomenal games, such as its recent modern take on the fruit theme, Fruit Slot, they also love to partner with other prosperous corporations. This time it's White Hat Gaming.
According to this agreement, their slots are going to be accessible to all White Hat casinos. Furthermore, this deal was conceived at Sigma 2018, but has only now gone officially live across MGA and UK markets.
White Hat Gaming – A Worthy Partner:
No wonder the Malta-based provider saw this company as their great opportunity to evolve and expand, especially if we take into consideration that they are one of the major gaming software aggregators with a state-of-the-art, market-leading, full-service platform.
Their clients are always supplied with stable, top-quality and flexible online gaming solutions. Each of their products comes with Player Account Management (PAM), as well as a digital wallet through a fully centralized back office and tools that could unearth and hinder any form of deceit.
And There's More…
Besides these things, they also contain CRM integration and a Content Management System. Furthermore, they are famous for being third-party suppliers, hence, they provide their consumers with some of the best content, including Wazdan's superb video slot.
Now, speaking of Wazdan, their effort never goes unnoticed, something proven in the recent news that they have been shortlisted for this year's BSG Awards. They are always trying to come up with something new.
Their innovations and slots always set the bar really high and blow everyone away, including the competition.
They pride themselves on having a high-quality portfolio with more than 110 HTML5 reel slots and they promised to their faithful players that they are going to release at least one each month.
Phil Gelvan, CEO of White Hat Gaming, talked about this collaboration by saying:
"We pride ourselves on offering a leading tech-rich solution to our B2B customers and partnering with gaming producers that share this passion for both games and technology is crucial when we secure partnerships. Wazdan games are known for being feature-rich, high-tech, and player pleasing. A combination we are excited to bring to our offering."
Andrzej Hyla, Head of Sales at Wazdan added:
"Securing a partnership with White Hat Gaming is a big win for Wazdan. This partnership allows us to extend the reach of our games in the UK and MGA markets and also places us beside industry leaders, which White Hat Games is known to be. Wazdan are passionate about games and developing tech and feature-rich games, we are excited to share this passion and first-class gaming solutions with White Hat Games."
Source: "Wazdan Games Go Live With White Hat Gaming" https://europeangaming.eu/portal/press-releases/2019/04/10/43105/wazdan-games-go-live-with-white-hat-gaming/. European Gaming. April 10, 2019.
Author: Tatjana Markovic