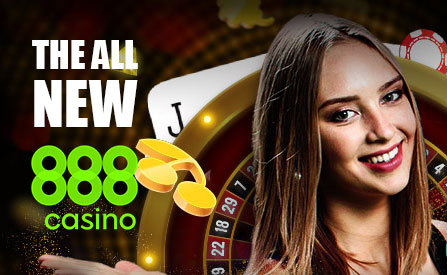 One of New Jersey's top online casino operators, 888casino, has completely revamped its online presence. They took down…
…their entire site, redesigned everything, and went live again with a completely new interface and look. The improvements bring more improvements than meets the eye.
Presenting a Whole New Image:
Being one of New Jersey's finest online gambling operators, 888casino has become a household name in this state among regulars. Since its inception in 2015, this casino has…
…grown in both size and the number of players, they service every day. Such steady growth has warranted a complete revamp of their online presence.
The transition between the old and the new went seamlessly. The newly designed site went up with no issues and is…
…completely changing the way 888casino is presenting their offer. These changes are far from superficial. The core part of the new design is improved functionality that allows players much easier access to their favorite content, as well as access from different platforms.
The team behind the new site has made it fully compatible with PC, Android, iOS and MacOS devices. Revamped UI is promising to…
… smooth out the entire user experience. Players will enjoy a much easier navigation as well as a whole new audio-visual presentation.
On top of the functional improvements, fans of one of the hottest online casinos in the United States are looking at…
…35 brand-new slot titles coming from tier one software providers like NetEnt and Evolution Gaming.
Improving the Mobile Gaming Experience:
Mobile gaming is slowly becoming more and more standardized across the industry. One of 888's goals was to…
… make their platform mobile-friendly and improve the reliability on non-desktop devices. As a result, the new system runs consistently on all operating systems and mobile devices.
Accessing the casino from iOS or Android is now made easy as all of the content and slot games load significantly faster.
Guy Cohen, SVP of B2C for the online venue, has commented on the new site, saying: "We are proud of our technological edge in the gaming market. The latest version of our website guarantees a fully immersive player experience with cutting-edge functionality and intelligent design. Players will certainly be impressed."
About 888casino:
Formerly known as Casino-on-Net, it is one of the oldest internet online casinos in the industry. The company was established by Aaron and Avi Shaked, two brothers who…
… had the vision to bring casino games to people in the confines of their homes.
Based in Gibraltar, they are one of the first strictly online business of this kind to operate in the United States since 2013. As such, they have become a trusted source of entertainment and iGaming.
Despite no longer being the only entity operating in New Jersey, they are still among the most trusted brands among players.
The site is constantly on the edge of the industry, staying on top of new…
… trends and always delivering the newest titles to their customers.
Source: "888casino Launches All-New US Casino Platform" https://europeangaming.eu/portal/press-releases/2019/07/29/51544/888casino-launches-all-new-us-casino-platform/. European Gaming. July 29, 2019.
Comment: This new layout runs and feels so much smoother!
Author: Dusan Trifunovic