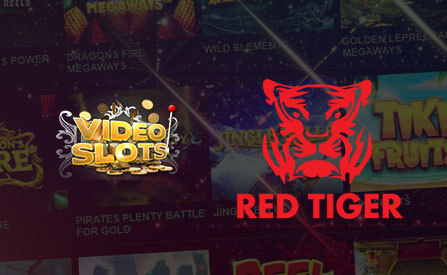 Videoslots.com, one of the leading online casinos, has decided to improve its offer by implementing the innovative jackpot system developed…
….by Red Tiger Gaming. This means that patrons of the online venue will now be able to enjoy some of the most popular games from the brand at their favorite casino.
Potentially Lucrative Jackpots by the Hour:
The decision made by Videoslots.com to take on Red Tiger's jackpot system was rooted in their effort to offer something new and exciting to their patrons. The two companies will work together to implement a number of jackpots. Aside from the main pot, the idea is to offer daily and even hourly jackpots that will give players much more chance to score big.
The slot games that will include these features are the ever so popular Pirate's Plenty – Battle for Gold, Wild Elements, Dragon's fire and Phoenix Fire. In addition to these, Red plans on delivering a number of other titles as well.
William Ahlberg, Head of Casino at the site, commented on the new deal: "The Videoslots team thrives on innovation and player-friendly tools, so we are delighted to be working with the like-minded Red Tiger. Winning big money from small stakes is everybody's aim and with daily and hourly windfalls now available, we are giving more Videoslots players than ever the chance to fulfill their jackpot dreams."
Carl Ejlertsson, Business Development Director at Red Tiger, also added a comment regarding their new partner: "Our Jackpot Network has been a hugely popular addition to our portfolio, and we are delighted to be working with Videoslots. Adding these jackpots give players yet another chance of winning big prizes on already popular games and the network is sure to help boost Videoslots acquisition and retention."
Expansion on the Agenda:
Ever since Red Tiger was acquired by NetEnt earlier this year, they have been on a path of expansion. The deal with Videoslots comes at the heels of several similar deals taking place in quick succession.
The company has made it clear that they intend to improve their market share and become more competitive in markets where they have an established presence. It isn't too farfetched to say that Red is not done with their plans for this year. After all, they have one of the largest and most successful software providers at their side.
About the Developer:
Red Tiger is a company that has managed to achieve so much in a very limited timeframe. Founded in 2013, this provider has more or less hit the ground running. The team that drives the brand has been dedicated to building new and exciting things from the start. This also applies to improved tech that will make the player's experience more memorable.
The company rolled out a brand-new core game engine not so long ago, which enables them to optimize their content in a wide variety of ways. Despite being acquired by another provider, the supplier remains a semi-autonomous entity that is staying true to the ideals they've held dear so far.
Source: Miller, George. "Videoslots adds Red Tiger's Jackpot Network" https://europeangaming.eu/portal/press-releases/2019/10/16/56563/videoslots-adds-red-tigers-jackpot-network/. European Gaming. October 16, 2019.
Author: Dusan Trifunovic