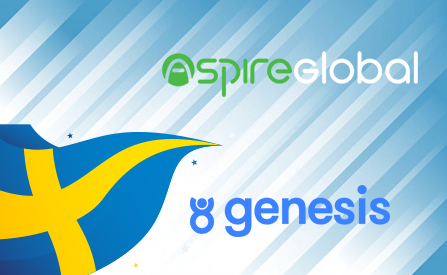 Swedish courts have decided to reduce the fines issued to Genesis and Aspire Global based on their breach of Swedish gambling regulations earlier this year. The two companies…
…will now have to pay a lesser amount compared to that which Spelinspektionen calculated when they were deciding on how to penalize them.
Calculating Gross Turnover Leads to Reduced Fines:
Both companies have found themselves at the center of Spelinspektionen's investigation earlier this year when…
…this Swedish gambling regulatory body looked into possible breaches of Swedish gambling law. The companies were found to be in breach of self-exclusion regulations and were promptly fined for their transgressions. Namely, Spelinspektionen has concluded that…
…both failed to integrate with the Spelpaus.se, a self-exclusion system put in place by the government that every operator needs to be in compliance with.
This requirement went into effect on January 1, 2019, when several new gambling laws were adopted by this Nordic country. The issue with the companies occurred when some…
…players who decided to voluntarily exclude themselves from online gambling still managed to access online casinos operated by these two brands. A brief investigation by Spelinspektionen quickly uncovered the extent of the breach.
The Details:
The two slot games and casino operators were initially charged issued SEK4m and SEK3m respectively earlier in April. However, the Administrative Court in Linköping, Sweden, has decided to reevaluate the fees.
While both the court and Spel agree that the companies should be fined as a percentage of these companies' gross turnover, they've calculated that this amount is lower than initially estimated.
This wouldn't be the first time that the Administrative Court has decided to help out licensed operators in need. They have essentially overruled Spel's decision to limit Vidoslot's license to only two years, effectively extending it to December of 2023.
However, this very same court is also known for the rigorous handling of more serious offenders. Global Gaming's appeal was overturned and this company's subsidiary SafeEnt ultimately ended up losing their license to operate within Sweden.
Sweden isn't the only country looking to impose a stricter enforcement of its gambling regulations. The Netherlands and the United Kingdom are on the same level of enforcement of newly passed laws.
Controversial Regulations:
Aside from obvious breaches of gambling laws and regulations, many operators are voicing their worries over growingly restrictive regulations that are being passed in key European markets. Most recognize that…
…problem gambling suppression is at the core of all of these changes, but are wondering just how far will different regulatory bodies go in order to reach their goals? Some markets, such as Sweden, have become…
…rather unforgiving, thus putting operators in a difficult position. With that said, these changes have also prompted a dialog between the regulators and operators, which is expected to lead to more acceptable results for both sides.
Source: "Swedish court lowers Genesis and Aspire Global penalty fees" https://www.igamingbusiness.com/news/swedish-court-lowers-genesis-and-aspire-global-penalty-fees. iGaming Business. December 18, 2019.
Author: Dusan Trifunovic