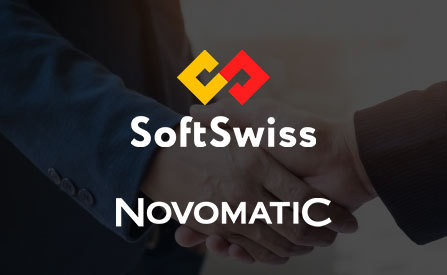 SoftSwiss, a content development studio, has signed a partnership deal with Greentube. The two companies have agreed on an arrangement that will…
…open Novomatic subsidiary's content to SoftSwiss. This provider will then add the new slots to their content aggregation platform, making it available for a wide range of affiliated online casino operators worldwide.
Expanding the Distribution Network:
SoftSwiss' latest portfolio expansion has netted them a deal with the NOVOMATIC division. Being one of the largest international gambling companies, NOVOMATIC…
…offers a variety of services and content types across its numerous subdivisions. Greentube is their interactive division tasked with providing the market with high-quality slot games as well as other casino content. Fans of table games will find a variety of roulette and blackjack games available in this company's current offer.
Gaining access to such a diverse selection of games gives the Austrian-based developer a significant boost in terms of content quality as well as quantity. Even though this content platform already enjoys a reputation of having a sizable offer from top-tier providers such as Play'n GO and Playtech, this addition is important for this brand.
Official Statements:
Ivan Montik, SoftSwiss founder, commented on this new partnership: "A partnership with such a renowned market player as Greentube is a significant milestone in the development of our company. As we plan to work with Greentube in several regulated markets, this deal will enhance our customers' business and drives us to the very top of the industry."
Michael Bauer, chief financial officer at Greentube, also added his take on the deal: "We are thrilled to further expand the reach of our extensive portfolio in several markets and to introduce our games to a new player base by partnering with SoftSwiss. SoftfSwiss powers some great brands and we look forward to a successful partnership."
Content will go live across the SoftSwiss platform as soon as the integration process is complete. Affiliated online casino operators will…
…be able to access the new content soon after.
About the Austrian Provider:
SoftSwiss was founded back in 2008. At the time, its main focus was the development of online auction software and associated tools for this type of business. After experiencing massive success in this industry and gaining plenty of valuable knowledge in the process, it has turned to the iGaming industry.
In 2012, the company created its online casino software platform, which has become one of its main products at the moment. After experiencing great deals of success with this endeavor, the brand slowly shifted its focus on Bitcoin gaming software, becoming one of the leading authorities in this niche.
More on Greentube:
The software studio is dedicated to creating and producing high-quality content for the iGaming industry. Considered to be slot game specialists, this studio offers…
…a variety of different gaming content that includes table games as well as video poker games. As a part of NOVOMATIC group, it is a part of one of the largest names in the gambling industry.
Source: "Greentube (Novomatic Interactive) expands our game providers list" https://www.softswiss.com/company-news/greentube-novomatic-expands-softswiss-game-providers-list/. SoftSwiss. November 13, 2019.
Author: Dusan Trifunovic