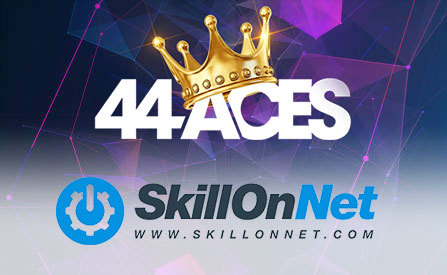 SkillOnNet, one of the largest online casino platform providers, has signed a partnership deal with 44ACES.com – an up-and-coming white label casino.
The new deal will open both sides to new opportunities as well as…
…new markets from all around the world. It is an endorsement project that promises to achieve great success.
Casino Incubators:
The latest addition to SkillOnNet's family comes as another move by this company to recognize and…
…capitalize on a quality online casino. This wouldn't have been the first time they have managed to take an up-and-coming casino and turn it into a powerhouse.
A previous instance includes PlayOJO – one of the leading online casinos in the United Kingdom.
SkillOnNet has recognized similar qualities in 44ACES.com, especially since this is a white label casino that has shown a lot of potential for growth.
Per the terms of the deal, this casino will gain access to over 3000 slot titles from the supplier's library. On top of that, they will...
…enjoy the VIP reward scheme, the CRM platform and the entire infrastructure offered by SkillOnNet. In return, this major online casino provider gets to be a part of this company's imminent success.
Following the news of the deal being signed, both parties have commented on the new partnership.
Roberto Calo, the Chief Executive Officer of 44ACES.com, stated: "We are excited to start our journey with SkillOnNet as we believe the platform will provide a competitive edge thanks to the ongoing development in the games available and the player experience offered. 44ACES will give both VIP and casual players a new look and feel while delivering the best customer experience with a personal touch."
Jerry Land, Vice President of B2B solutions at SkillOnNet also delivered a statement, saying: "We are delighted that 44ACES has chosen SkillOnNet as its white-label partner and we look forward to playing a significant role in the success of this exciting online casino brand in markets all over the world. SkillOnNet has emerged as one of the most successful online casino platform providers following phenomenons like PlayOJO and DruckGluck as well as our long-standing brands PlayMillion and SlotsMagic. We believe 44ACES will be the next big success."
About:
SkillOnNet is one of the most reputable online casino operators. Founded in 2005, it is one of the largest such organizations currently operating…
…on the market. The company currently offers over 1200 different slots from various software providers, while their partners include some of the most popular white label casinos.
The company also offers the entire infrastructure necessary for the successful operation of online casinos. Their…
…custom back end tools allow for quick and easy deployment, scalability, customization and most importantly – stability. With multiple currencies and multiple languages available, it has also introduced cryptocurrencies in the form of Bitcoin.
With the constantly growing portfolio of content as well as partners, this provider is promising to keep scaling up its operations.
Source: Narayan, Niji. "SkillOnNet Introduces 44ACES.com " https://europeangaming.eu/portal/latest-news/2019/08/02/51856/skillonnet-introduces-44aces-com/. European Gaming. August 2, 2019.
Author: Dusan Trifunovic