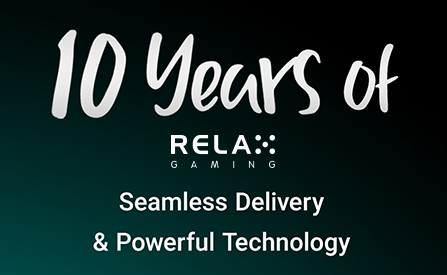 Relax Gaming (RG), one of the largest providers in the iGaming industry, has celebrated its 10-year anniversary.
The company has grown so much in the past decade…
…and transformed from a small team of like-minded professionals, into a massive driving force in the industry.
10 Years of Excellence:
The iGaming powerhouse that runs one of the largest content aggregation platforms in the industry, is celebrating 10 years of growth and excellence. Founded in 2010, the company started off as a small team of likeminded individuals who wanted to become the leading source of quality gaming solutions.
The developer's first larger project involved creating custom poker products for Kindred – the brand behind Unibet and other online casinos.
Needless to say, their products were…
…highly successful to a point where Kindred was recording growth despite current industry trends at the time. After such a successful test run, the latter has expanded its order to include bingo. From that point on, Relax grew in size both in terms of resources and distribution network.
At that point, this provider had signed solid partnerships with over 100 operators and over 350 brands. The next logical step was to create its own content aggregation platform, and that is exactly what they've done.
Named Powered By and Silver Bullet, RG's new partnership programs allowed numerous online casino operators unique access to hand-picked studios and high-quality slot games they offer. On top of that service, Relax also offers its own, in-house content that includes poker, bingo, and other gaming solutions.
Over time, this company has released some of the top-performing titles such as Temple Tumble, Money Train, Snake Arena, and many more award-winning games.
The next decade is looking…
…optimistic for Relax. The company is working hard on signing new partnership deals with both operators and software providers from all over the world.
More and more names are joining the Silver Bullet and Powered By programs, announcing a new era for content aggregation services under Relax Gaming's brand.
Tommi Maijala, Relax Gaming CEO, has offered a comment regarding the anniversary: "As a stakeholder in Relax Gaming since day one, I have seen first-hand how Relax's strong values of integrity and technical excellence have made it a driving force in content delivery. With an employee base of over 170 talented individuals that continues to grow and offices in strategic markets across Europe, Relax has built a solid foundation that will serve us well as we move forward on an upward trajectory. We have strong ambitions for continued growth and product development and I'm incredibly excited about what the next 10 years will bring."
RG has started of 2020 in style with several important releases as well as new partnerships lined up. Overall, the company is looking forward to another year of record-breaking growth.
Source: "Relax Gaming celebrates 10 year anniversary" https://relax-gaming.com/news/2020/03/relax-gaming-celebrates-10-year-anniversary. Relax Gaming. March 13, 2020.
Author: Dusan Trifunovic