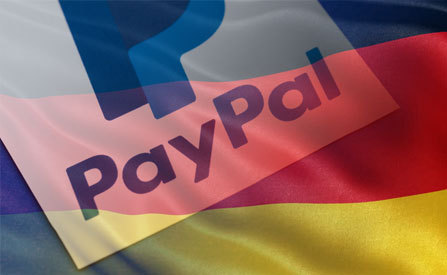 PayPal, one of the largest and most prolific digital financial institutions, has announced a change of terms of use for users residing in Germany. Newly implemented changes will…
…prevent the use of their services by online casino operators in this country as long as the products or services they offer are considered illegal.
Flipping The Switch with Only Schleswig-Holstein Unaffected:
The news comes in light of German federal institution issuing federal blocking orders to financial institutions who work with online operators.
Germany has made online slots and other casino games illegal in all states except for Schleswig-Holstein. Being a small state at the very far north of Germany makes this ban effective in what is essentially 90% of the country.
After an unnamed payment service was served with a federal blocking order earlier this year, many thought it was PayPal. Although it is hard to prove whether PayPal was…
…involved in that federal ruling, it is obvious that they have reacted proactively to curb the use of their services in illegal online casinos.
PayPal was also sued earlier this year by a person who has lost money playing at various online casino operators. The law firm representing the plaintiff claims that it was…
…responsible for the losses as they have accepted bets made in casinos that were notlegal. The case is ongoing.
Many are seeing the company's crackdown on iGaming operators as a sign that German regulatory services are keen on enforcing the Third State Treaty on Gambling. This piece of legislation was passed earlier this year and lays the groundwork for issuance of sports betting licenses starting January 1, 2020.
The new set of regulations also leaves a provision for the state of Schleswig-Holstein to run its own gambling regulations which many consider to be rather liberal.
With more and more payment services pulling out of German online casino space, many are wondering how that will impact the revenue of operators and other entities working in this market.
As it stands right now, the Treaty imposes a number of limitations to both players as well as online casinos. Players will be limited by a mandatory €1,000 spending limit at a monthly level, while there is also a 5% turnover tax included as well.
One of the largest operators servicing the German market, GVC Holdings, is convinced that new regulations won't have a…
… profound effect on their business. They have stated that delays and postponements in the licensing process are very likely. In turn, this administrative hiatus would allow them and other operators to continue offering online casino services.
PayPal announced that the changes to their terms of use will go into effect starting October 21. They have also warned players to check the legality of the transaction before committing.
The company has clarified that the changes will mostly apply to section 9.1 of its user agreement that already prohibits users from infringing on applicable law, contract and regulation.
Source: "PayPal launches German online casino crackdown" https://www.igamingbusiness.com/news/paypal-launches-german-online-casino-crackdown. iGaming Business. August 21, 2019.
Author: Dusan Trifunovic