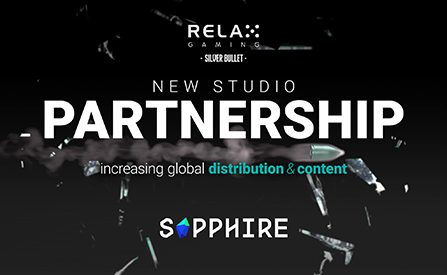 One of the most popular and certainly (at least these days) busiest content suppliers and distribution platforms, Relax Gaming, has made another major agreement with a creative development studio, Sapphire Gaming.
What's Part Of This Contract?
According to this dealership, this inventive studio is going to be added to their Silver Bullet Partner program.
Generally speaking, SG offers brand-new, refreshing content that is going to be released on the Relax Gaming platform. In April, a highly-anticipated title, Jupiter's Choice, will be inserted into this platform among other products.
As we already stated, RG has been very occupied in the last couple of months. Just a few days ago, they made a huge deal with a cutting-edge game studio and before that they've been working effortlessly to upgrade their Silver Bullet partner program.
How Did They Achieve It?
They've accomplished this by collaborating with various successful suppliers, such as STHLMGAMING, Dice Lab, Max Win and Kalamba Games.
Ultimately, their Silver Bullet partners have major benefits from their outstanding Account Management and Compliance teams.
Simon Hammon, CPO at Relax, commented on this collaboration by saying:
"We are pleased to announce our agreement with Sapphire Gaming, which further strengthens the content available via our Silver Bullet partner program.
Sapphire Gaming is an exciting prospect, backed by strong industry experience and fits seamlessly with our commitment to offer premium content."
Alec Horley, CEO at Sapphire, added:
"We're delighted to partner with Relax, a significant step in realising our strategic growth ambitions.
Relax Gaming's reputation for transparent commercial delivery, open communication and support sets it apart, and we are excited to be working with the team."
Relax is truly one of the biggest aggregators and suppliers in the industry, providing their players and partners with only superb content, as well as with more than 570 games. In recent months, they have made some astonishing partnerships and managed to expand their reach toward other markets.
What's New With Sapphire?
This news may not be as recent as this one, but it's definitely worth mentioning. Namely, approximately more than two months ago, they launched SAPPHIRE RX 570 16gb HDMI Blockchain Graphics Card, which represents the first of a new family of GPU Blockchain products.
Moreover, it allows mining of the brand-new GRIN coin and other cryptocurrencies. This powerful innovation can be ordered as standalone card, perfect for those consumers who want to manually install it and it comes with a Dual Ball Bearing Fan with SAPPHIRE Quick Connect Fan technology.
Adrian Thompson, Global VP of Marketing at SAPPHIRE Technology, commented on this product by saying:
"The launch of the RX 570 16GB HDMI Card presents an exciting opportunity not just for SAPPHIRE but for early Grin Coin miners and the cryptocurrency market as a whole. Future products will include new 16GB Graphics additions' to SAPPHIRE's line of INCA and MGI Series of dedicated blockchain systems. We're thrilled to be bringing this and future blockchain products to market."
Source: "Relax Gaming Signs Silver Bullet Partner, Sapphire Gaming" https://europeangaming.eu/portal/press-releases/2019/04/08/42807/relax-gaming-signs-silver-bullet-partner-sapphire-gaming/. European Gaming. April 8, 2019.
"SAPPHIRE Technology Launches 16GB Blockchain Graphics Card To Support GRIN Coin And Other Cryptocurrencies" https://www.sapphiretech.com/en/news/sapphire-technology-launches-16gb-blockchain-graphics-card. Sapphire Tech. April 8, 2019.
Author: Tatjana Markovic