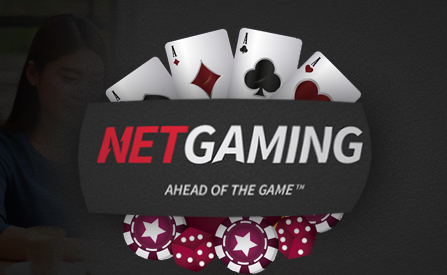 NetGaming, a young software studio specialized in creating various casino games for the iGaming industry, has turned East. The company is looking to establish a name for itself in Asian markets.
In order to achieve these goals, the company has signed a partnership deal with We Are Casino.
Strategic Partnerships:
The innovative software studio with offices in the United Kingdom and elsewhere, has turned its crosshairs to the East.
Despite being one of the youngest brands on the block with barely 2 years of up time, NetGaming has proven that it is more than capable of delivering high end slot games to the industry and taking on new markets. Its content portfolio is available in 26 different languages and can be played with over 40 currencies.
After securing strategic partnerships across Europe and other high priority regulated markets, this provider has decided to expand to the East. It has signed a partnership deal with We Are Casino – a massive content aggregation platform that operates in Asia and maintains a vast network of operators in this region.
Some of NetGaming's titles that will soon be available to Asian operators include Warrior's Quest, Festival of Fortune and their latest offering – Kitty Café.
Pallavi Deshmukh, CEO at NetGaming, offered a comment regarding the new deal: "We Are Casino's impressive distribution capability gives our content a further boost, and the aggregator's access to important regions in Asia fits well with our ambitious global roadmap. With further market entries, high-profile agreements and premium game releases on the horizon, NetGaming is all set for an exciting 2020."
Marko Jelen, Head of Sales at WeAreCasino, also commented on the partnership: "I'm really pleased about the deal we closed with NetGaming. Us being neighbours at ICE for the past couple of years, it was only natural to enter into a content distribution agreement with the company. I'm sure that the quality of their games will appeal not just to our Asian market but also Europe and others. I'm particularly excited to see their Branded Games that are coming soon."
About the Company:
Founded in 2018 by a group of passionate industry veterans, NetGaming quickly made waves with its quality slot games and innovative features. The company operates out of Europe and India, with offices in both Malta and London. Aside from its gaming portfolio, it takes great pride in delivering some advanced math models and in-game features.
Most of their games are known for featuring immersive graphics that allow the player to experience a different level of entertainment. Despite being around for just over two years, it has already formed a solid network of distributors and partners.
Source: Miller, George. "NetGaming set for Asian market with We Are Casino deal" https://europeangaming.eu/portal/press-releases/2020/02/28/65260/netgaming-set-for-asian-market-with-we-are-casino-deal/. European Gaming. February 28, 2020.
Author: Dusan Trifunovic