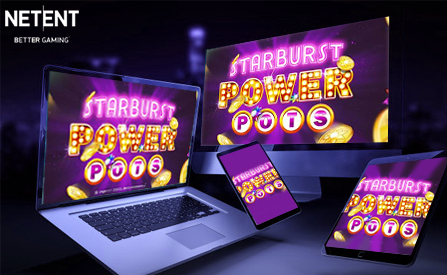 NetEnt has been one of the largest providers in the iGaming industry for over a decade. The company is credited with numerous innovative solutions…
…that have propelled the industry forward. Their latest innovation will add another notch on that belt of achievements as the developer unveils its Starburst PowerPots jackpot system.
Wins for Everyone:
Bringing innovation to the world of slot games is something very few companies are truly known for. The supplier is definitely one of them. Their latest bout of innovation comes in the form of a brand new…
…jackpot system promptly named Starburst PowerPots. The idea the company has come up with is quite ingenious. It has recognized the need to give players a better chance to win. The way they have done that is by creating community jackpots.
In order to participate, players will have to collect various Starbust tokens which are available across a wide range of online casinos and games. Every token adds…
…towards player's chances of winning. However, if they draw the jackpot, there won't be the sole winner.
The whole idea behind community jackpots is to have whole groups of players trying to win. When someone from the group eventually does win, everyone from the group gets their share of the winnings.
Details:
Best of all, every player from the group will get their share of the jackpot even if they are not online at the moment. NetEnt will be implementing the Starburst PowerPot jackpot into…
…a wide range of slot games. With that said, individual operators will still retain the ability to cater to the player's experience according to their own needs.
Bryan Upton, NetEnt Director of Games, had shared his take on the new features: "Starburst PowerPots was developed in line with our customers' and players' expectations, taking cue on everything from art assets to mechanics. We are using leading edge games design approaches to make this jackpot family with our most powerful games simple to understand yet compelling. Using the Starburst brand will create massive acquisition while these jackpot mechanics will drive huge engagement for players. This is community gaming without the overengineering and overthought on what slot players really want. This product can fit into any operator's portfolio and deliver any experience, from large life changing prizes to super-fast hitting jackpots."
About the NetEnt:
NetEnt is a premier software provider operating in the iGaming industry. The company has been heavily involved in the development of new technologies as well as…
…the advancement of the industry as a whole. Today, they are keeping that innovative spirit going by creating immersive slot games and other gaming content. It also offers complete back-office solutions that enable operators to…
…shape and modify the player's experience. This company's business practices have allowed them to build a massive network of affiliated operators who work in some of the most competitive regulated markets around the world.
Source: "NetEnt unveils groundbreaking Community Jackpot System: Starburst PowerPots" https://www.netent.com/en/netent-unveils-groundbreaking-community-jackpot-system-starburst-powerpots/. NetEnt.February 4, 2020.
Author: Dusan Trifunovic