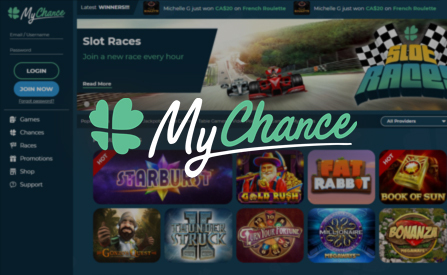 MyChance, online casino operator, has announced major renovation works on its online platform. The goal of this endeavor is to…
…give its online presence a more modern and user-friendly look. The technical team behind this brand has added several important features in the process, which are meant to boost the overall performance of the platform.
Going for Improved Gamification:
MyChance has been busy fine-tuning their online presence since the brand was launched in 2017. The company is constantly on the lookout for ways that would…
…improve its platform's performance and allow patrons to have a more positive experience. As such, it has decided to go for a complete overhaul of the platform.
The team behind this Swedish operator has come to the conclusion that the original layout simply wasn't cutting it. As a result, the company has planned out several important additions to the features of the platform, which are meant to improve the…
…user experience through personalization as well as gamification.
Patrons of their platform will now be able to use the new search function that places all of the content available in an easy to find library. Furthermore, there is the 'favorite' system that allows players to store their favorite slot games for easier recall later on. The operator has also added a rating system and an upgraded, more efficient player reward system. With the new layout, players will be able to use said rewards to unlock various features and benefits within the platform.
Increasing Engagement:
The entire overhaul has given the brand a more engaging access point to its content. The operator is hoping for a tangible increase in user acquisition as well as retention in the coming weeks.
Eric Holmberg, CEO of MyChance casino, issued a short statement regarding the overhaul efforts: "Our mission from day one has been to give back to our players and to provide them with the best possible online casino experience in the market. Our new look and improved offering achieve this aim; from our generous loyalty scheme to our thrilling and exciting races that run round the clock, we know how to look after our customers. We look forward to hearing feedback from our existing players and also to welcome new customers through our doors and to provide them with an online casino experience like no other."
More on the Operator:
MyChance is among the youngest online casino operators in the European market. Founded in 2017 in Sweden, this company has immediately taken on some of the longest standing brands in the business. With a unique platform that is focused on positive user experience, the goal of this operator was to bring gaming closer to players.
With that said, one of its most redeeming attributes is a constant hunger for improvement and innovation. This latest overhaul adds to this point, showing that this company is not afraid to experiment with various concepts as long as they yield positive results.
Source: Narayan, Niji. "MyChance Renovates its Platform" https://europeangaming.eu/portal/latest-news/2019/10/22/56992/mychance-renovates-its-platform/. European Gaming. October 22, 2019.
Author: Dusan Trifunovic